JD Degree Requirements
University of Pennsylvania Carey Law School JD candidates are required to complete 86 credits at graduation during 6 semesters in law school residence. Each JD student is required to complete one course in Professional Responsibility, 6 credits of experiential learning, the Pro Bono Requirement, and a scholarly research and writing project. The details of each requirement are explained below.
Credit Requirements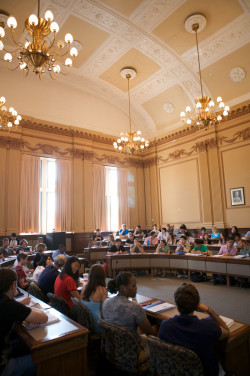 A Silverman Hall ClassroomStudents are required to complete 86 credits at graduation during 6 semesters in law school residence.
Experiential Learning: The ABA has instituted a new requirement that, effective with the Class of 2019, JD students must complete one or more experiential courses totaling at least 6 credit hours. Nearly 60 courses – including all clinics and externships – in the Law School's curriculum have been classified as experiential for this purpose. Students can identify which experiential courses are offered during a given semester through an annotation on the course planning spreadsheet that will be distributed by email and posted to the Registrar's website, and will be able to search for experiential courses in the online Course Finder via the drop-down category menu. Please do not hesitate to reach out to the Registrar's office at reg@law.upenn.edu with any questions about the experiential learning requirement.
Full-time attendance: At least 12 credits are required each semester. Students may enroll in no more than 17 credits per term toward the JD degree.  
Students may receive up to 12 credits toward their JD graduation requirements for graduate-level courses taken in other departments upon establishing that these courses will contribute to their legal educations. 
Co-Curricular Credit Restrictions:
No more than 22 CREDITS (of the 86 credits required for graduation) may be earned in co-curricular activities.  No more than 6 of the 22 can be earned in credits listed in the column on the right, below.
| | |
| --- | --- |
| Max 22 credits:   | Max 6 (of 22) credits: |
| Courses Outside of the Law School | Journals & Law Review  |
| Externships/Ad Hoc Externships       | Keedy Prelims & Keedy Final Round |
| Independent Study/CPT Indep Study | Moot Court & Mock Trial Competitions |
| Littleton Fellow (Legal Practice Skills Instructor) | Moot Court Board |
|   | Independent Research / Directed Reading Seminars |
Pro Bono Requirement
The Law School aims to promote an ethic of service in all students while encouraging them to develop professional skills and enhance their legal education. The centerpiece of the Law School's pledge to service is a graduation obligation of 70 hours of pro bono legal work. As the hub of public interest activities at the Law School, the Toll Public Interest Center coordinates a wide range of pro bono initiatives, including internal pro bono projects and the many external opportunities that students pursue.
The Law School's students perform pro bono services for hundreds of nonprofits, government and legal services agencies, and law firms locally, nationally, and globally. The Law School's 26 student-run pro bono groups enable students to satisfy their pro bono requirement while engaging in acts of leadership, working with their peers, and serving causes about which students are most passionate. Our self-initiated pro bono option enables the Law School's students to mold a pro bono experience as unique as their own interests.
Overview of requirement:
Students who may have received 35 hours of public service credit by working in a Law School-sponsored project in their first year of law school must perform an additional 35 hours in either their second or third year.
Students can sign up for placements identified by the Toll Public Interest Center or design their own placement and seek approval from the Assistant Dean.
Students who fail to perform 35 hours in their second year of attendance must perform the outstanding hours plus a 20-hour penalty that does not count toward the graduation requirement or they will face a registration hold for the fall semester.
For more information and placement opportunities, please visit the Toll Public Interest Center .
Senior Research and Writing Requirement
Requirement and Goals: Each JD student is required to participate in a scholarly research and writing project in either the second or third year. The requirement is intended to assure that every student demonstrates proficiency in scholarly research and writing under close faculty supervision. A senior writing project should provide faculty-student intellectual interchange and an opportunity for constructive faculty criticism regarding avenues of research, analysis, organization, and style. The writing may take the form of a single long paper or several shorter papers, as the supervising faculty member shall determine. The criterion that the project be "scholarly" is intended to exclude routine advocacy but not necessarily (in the discretion of the supervising faculty member) advocacy that results from a thorough and objective investigation of governing authority.
Faculty Input: It is expected that the faculty member, whether full-time or adjunct, will provide close personal supervision and comment, and that the student will undertake revision and further writing in light of the critiques. The senior research and writing experience will involve the following steps, each with faculty consultation:
a) Selection of the topic,
b) Submission of a first draft, and
c) Submission of a final draft that meets, to the faculty member's satisfaction, the standard of proficiency in scholarly research and writing (after revisions in light of faculty critique of the first and any subsequent drafts that the faculty member requires).
Deadlines: It is expected that the student's research and writing will be sustained over one or more semesters. Early and realistic deadlines should be set for initial drafts, so as to permit adequate time for faculty comment and for student preparation of a final draft.
Ways to Satisfy the Requirement: Provided that the rules and standards set forth above are met, the senior writing requirement may be satisfied in a number of ways, including (without limitation):
a) Seminars;
b) Work in independent studies;
c) Papers in lieu of examinations in regular law school courses (Students should always confirm such an arrangement with the faculty member at the start of a given semester);
d) Notes or Comments written for student journals;
e) Work as a faculty research assistant, provided, however, that such work may not also be compensated.
A research and writing project need not be graded or receive academic credit in order to satisfy the senior writing requirement.
Documentation: Each student is responsible for identifying a faculty member to supervise that student's senior writing project and for securing the faculty member's agreement to do so. Once the student has secured a faculty member's agreement to supervise the project, the student must submit a Faculty Agreement to Supervise Senior Writing form to the Registrar's Office.  Please note that the submission of the Faculty Agreement form does NOT signal the requirement has been met, but only that a faculty member has agreed to serve as a supervisor.
Satisfaction of the Senior Writing Requirement: Once the senior writing requirement has been satisfied, students should have the advising faculty member send a confirmation to the Registrar's Office.  The student's transcript will then be updated to reflect completion of requirement.
Professional Responsibility Requirement
All students are required to take a course in legal ethics. The requirement may be satisfied by completing any one of the professional responsibility courses.
Transfer Students:
New students entering on advanced standing are required to complete the Senior Writing Requirement, the Public Service Requirement, the 6 credit experiential learning requirement, and to satisfy the Professional Responsibility Requirement in either the second or third year. Students may also be required to complete first-year courses offered by this Law School, which they have not already completed in their first year. The credits for these courses, however, may be counted toward the credits required for graduation. Transfer students will receive a letter from the Registrar which will indicate the degree requirements and required courses, if any, that must be completed. The courses to be completed or waived are Civil Procedure, Constitutional Law, Contracts, Criminal Law, and Torts.
A Continuing Duty to Report Conduct
Throughout the course of your enrollment at the Law School, you have a continuing duty to report to the Dean of Students any matters involving your interactions with legal authorities, legal actions taken by or against you, or charges brought by University disciplinary offices.  Such actions include but are not limited to arrests, citations, lawsuits, subpoenas, traffic violations, or violations of Penn policies.  At the time you apply for Bar admission, the Bar authorities in each jurisdiction will seek to determine that information in your Bar application is congruent with your Law School student file. In order to simplify your admission to the Bar at such time as you are reviewed for "character and fitness," you must make any such activity known to the Law School immediately on occurrence.