Regulatory Compliance:
The Overlooked Competitive Advantage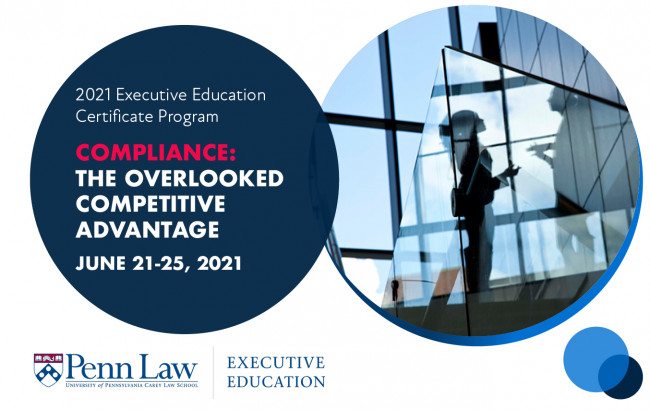 2022 Executive Education Certificate Program
Anticipated in the Summer 2022
Dates, Program Fee, and Application Deadline are Forthcoming in Fall 2021
A Tool to Advance Strategic Goals
Regulatory compliance is becoming more and more important every day. More industries are regulated, enforcement is becoming more aggressive, regulations are becoming more numerous and complex. As a result, organizations in every sector are seeing the need to develop standards, change workflows, invest in technology and most fundamentally change their culture and structure to ensure that risks are identified and managed responsibly.

The best run organizations should have the best run regulatory compliance programs – ones that are holistic, that build a culture of compliance, that draw on a properly developed governance structure, and that enable overall improved management and effectiveness that goes far beyond the simple do's and don'ts on paper. Because regulatory compliance touches all aspects of all organizations, it can and should be leveraged to both protect the organization and to advance strategic goals.
Program Overview
During this five-day virtual course, we examine the meaning and import of regulatory compliance and how to make the modern compliance program more effective to minimize risk and maximize advantage. We review how and why organization leadership can promote a culture of compliance and increase visibility, accountability, and efficiency in all corners of small to large and complex organizations. Participants will increase their understanding of the discipline of regulatory compliance with a strong emphasis on practical components to strengthen controls in any environment.
Who Should Attend?
The program offers valuable skills for anyone with responsibility for establishing, implementing, or overseeing compliance strategies and risk management at every stage, in organizations large and small. It provides essential training for privacy officers, enforcement or compliance personnel, auditors, consultants, attorneys, risk management officers and all professionals whose work relates to or is affected by regulatory compliance obligations.

Participants who complete the program will gain the tools needed to understand and analyze the importance of compliance and the practical measures to embed compliance functions to your organization's strategic advantage and earn a certificate in Regulatory Compliance: The Overlooked Competitive Advantage from University of Pennsylvania Carey Law School.


Faculty Co-Directors
Featured Speakers at Regulatory Compliance: The Overlooked Competitive Advantage
Learning Objectives
Through this interactive program, you will:
Hone your understanding of the importance of a mature and effective regulatory compliance program to manage risk and to improve your organization's overall controls.
Apply specific analytical approaches and operational strategies to build an effective regulatory compliance infrastructure and promote an overall culture of compliance.
Identify components of a regulatory compliance program that can be leveraged for better overall management, accountability, and efficiency.
Be better equipped to prepare your organization for management of situations where non-compliance is found.
Understand how to best advocate for specific internal and external policies based on a practical understanding of what is involved in implementing them in a meaningful way.
Enhance your understanding of when and how to seek and deliver regulatory compliance advice in different scenarios.
Program Schedule
Forthcoming in the Fall of 2021
Program Details
Continuing Legal Education Credits (CLE)
CLE credits may be available for lawyers in attendance. If you have any questions regarding CLE credits for this program, please email cle@law.upenn.edu.

Financial Assistance
A limited amount of financial assistance may be available to qualified applicants. Requests for more information on the qualifications and availability of assistance can be directed to Compliance@law.upenn.edu.
Contact Us
Questions about the program, application process, and admissions can be directed to Compliance@law.upenn.edu.

Follow the Penn Law Executive Education LinkedIn page for the latest updates.