2020 Executive Education Forum on
Advancing Inclusive Leadership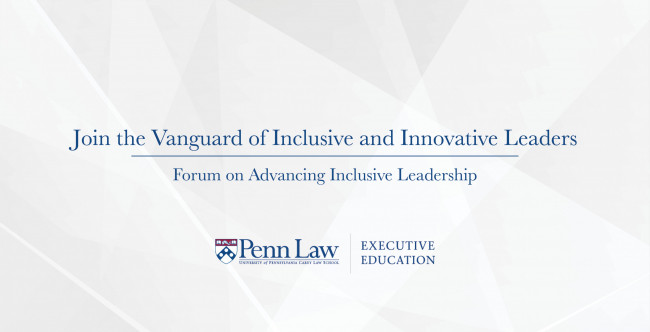 Whether you are an entrepreneur at a start-up, experienced non-profit leader, C-suite professional or in-house legal counsel at a small firm, or the CEO of a Fortune500 company, the Black Lives Matter Movement and COVID-19 pandemic have underscored a greater need for leaders from across industries to develop measures and strategies to address structural bias, create an inclusive work culture, and play an active role in advancing relations through the concept of inclusive leadership.
This executive education forum brings together leaders from across industries, and many of the most important voices leading the way in creating change to reflect on what inclusive leadership means in addressing systemic bias and inequities in a new era.
This unique collection of conversations offers valuable thought leadership for anyone in a leadership position interested in putting purpose and values as a cornerstone of their mission and making inclusion a core part of their strategic priorities.
Forum Speakers
This series of conversations explores leadership with a focus on value-based, purpose driven ventures, predicated on inclusiveness and allyship, and will include 35+ notable speakers such as: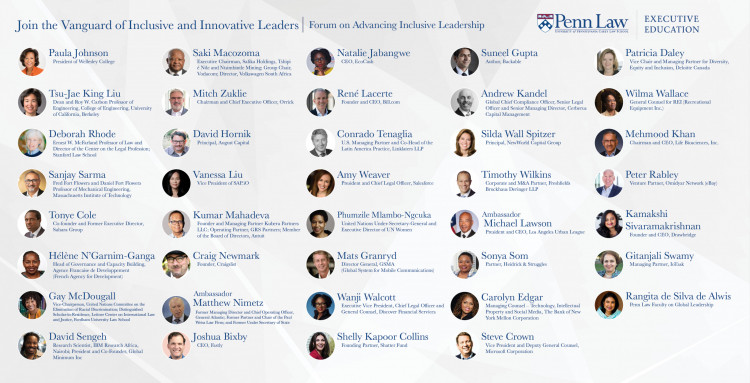 - View the Complete Roster and Full Biographies of the Speakers -


Forum on Advancing Inclusive Leadership - Full Sessions
To View Sessions for CLE credit Click Here
October 12, 2020

Keynote Conversation:
 What is Inclusive Leadership
in a Changing Political Economy?
 Paula Johnson, Tsu-Jae King Liu,
Deborah Rhode, & Sanjay E. Sarma

 

How Business Leaders Should Respond to the Movement for Black Lives?
 Tonye Cole, Helene N'Garnim Ganga,
Saki Macozoma, Gay J. McDougall,
& David Senghe

October 13, 2020

Keynote Remarks
 Mitch Zuklie

Financing for Inclusion: Investing in a Diverse Group of Business Leaders
David Hornik, Vanessa Liu, Kumar Mahadeva, Craig Newmark, &
Ambassador Matthew Nimetz

Using the Business Platform
to Advance Equality
 Joshua Bixby, Natalie Jabangwe,
Rene Lacerte, Conrado Tenaglia,
& Amy Weaver

October 14, 2020

Keynote Conversation
UN Under Secretary-General Phumzile Mlambo-Ngcuka & Mats Granryd 

 

Keynote Conversation on the
Power of Inclusive Investing
Wanji Walcott & Shelly Kapoor Collins

Investing in ESG as Business Priority
Suneel Gupta, Andrew Kandel,
Silda Spitzer, & Timothy Wilkins

Closing Remarks
 Ambassador Michael Lawson

October 15, 2020

Keynote conversation on Inclusion
in Hiring, Retention and Promotion
Sonya Som & Carolyn Edgar

 

Purpose & Inclusion in the Mission Statement

Steve Crown, Patricia Daley,
& Wilma Wallace

Inclusion as a Business Priority
 Mehmood Khan, Peter Rabley,
& Kamakshi Sivaramakrishnan
Contact Us
Questions about the forum can be directed to inclusiveleadership@law.upenn.edu.



Follow the Penn Law Executive Education LinkedIn page for the latest updates.