Regulatory Analysis and Decision-Making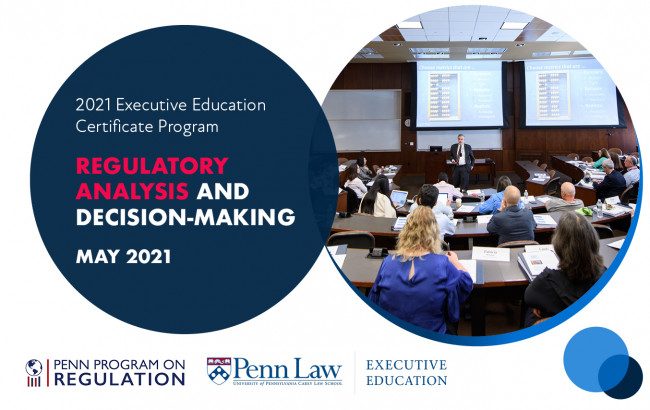 2021 Executive Education Certificate Program
May 12-14, and 19-21, 2021 | Live Virtual Program
Private Sector Professionals: $2,850 | Government Agencies & Non-Profit Entities: $2,350
Registration Deadline: April 26, 2021
Registration for the 2021 Program is Now Closed
Program Overview
Each day, executives and professionals working in a wide variety of public- and private-sector and non-profit organizations—across every major sector of the economy—must take actions that have significant regulatory implications. To make smarter decisions, leaders and their organizations need to draw on an arsenal of analytic tools to assess regulatory problems and identify and evaluate solutions.

This live, virtual, six-day course builds the skills professionals need to analyze and make regulatory decisions, as well as to operate effectively within an ever-changing regulatory environment. Participants will hone the skills needed for understanding and assessing regulations — and for making smarter management and compliance-related decisions.
Who Should Attend
This program is intended for any executive or professional involved in making regulatory decisions or interacting with regulatory issues. It is well-suited and offers valuable skills for executives or professionals from around the world who work with regulation at the local, state, provincial, regional, national, or international levels, whether from business or government. Professionals from corporations, independent regulatory organizations, government ministries or departments, law firms, insurance companies, advocacy organizations, and non-profit institutions will gain and refine essential skills.
This program will also be especially valuable to individuals in organizations impacted by recent changes in regulatory legislation, affected by new technologies, and/or dealing with complex data, privacy, transparency, and information disclosure policies.
Participants who complete the program will earn a certificate in Regulatory Analysis & Decision- Making from University of Pennsylvania Carey Law School.
Why You Should Attend
Make an Immediate Impact on Your Career and Organization
This program offers you the opportunity to learn from some of the foremost authorities on regulatory policy, engage with a diverse group of professionals, and develop skills to make an impact in your career. 

Through this interactive program, you will:
Develop your capacity to use core analytical tools essential for making, assessing, and responding to regulatory decisions.
Ground yourself in the major concepts and techniques used to inform and improve decision-making across all areas of economic and social regulation. 
Enhance your capabilities within your professional setting to establish, implement, enforce, influence, or comply with regulations. 
Strengthen your ability to draw on analytical techniques when providing internal or external input into regulatory development, review, and modification. 
Sample Topics Covered*
In addition to the analytic skills covered in this program, participants will discuss a range of leading topics in regulation, such as:

Behavioral economics and nudges
Risk-based regulation
Flexible regulatory design
Artificial intelligence/machine learning
Incorporating new technology
Regulation and inequality
Transparency and information disclosure

*Topics subject to change.

 
Registration for the 2021 Program is Now Closed
Faculty Director



Cary Coglianese
Edward B. Shils Professor of Law and Professor of Political Science, University of Pennsylvania Carey Law School; Director, Penn Program on Regulation

Professor Coglianese specializes in the study of regulation and regulatory processes, with a particular emphasis on the empirical evaluation of alternative regulatory strategies and the role of conflict and cooperation in business-government relations.
Program Schedule
The live virtual format is designed to foster a cross-disciplinary discussion to maximize your learning experience.
Regulatory Analysis and Decision-Making will take place on Penn Law's Zoom platform.
There will be two-to-three interactive sessions and group discussions each day. Breaks will also be scheduled intermittently.
Course materials and pre-recorded sessions will be available to help participants prepare for the program.
What Previous Participants Have to Say About the Program
| | |
| --- | --- |
| "The program was an excellent tour de force through the essentials of regulatory management and emerging trends." | "The program offers an excellent framework to continue thinking about innovative ways to approach regulations and their analysis." |
Program Details
Dates
May 12, 13, 14, 19, 20, and 21, 2021
3:00pm to 5:30pm (EDT)
 
Location
Live Virtual
 
Program Fee*


Private Sector Professionals: $2,850

Government Agencies & Non-Profit Entities: $2,350

*Program fee includes access to all sessions, suggested readings, and course materials.

Save $350! Early Registration Deadline: March 12, 2021
Participants who register by this date, and are accepted, will receive a savings of $350 off program fee.
 

Registration Deadlines

Early Registration Deadline: March 12, 2021
Participants who apply by this date, and are accepted, will receive a savings of $350 off program fee.

Regular Registration Deadline: April 26, 2021

Registration for the 2021 program is now closed.

 
Registration for the 2021 Program is Now Closed
Continuing Legal Education Credits (CLE)
CLE credits may be available for lawyers in attendance. If you have any questions regarding CLE credits for this program, please email cle@law.upenn.edu.
Financial Assistance
A limited amount of financial assistance may be available to qualified applicants. Requests for more information on the qualifications and availability of assistance can be directed to RegulatoryAnalysis@law.upenn.edu.

Contact Us
Questions about the program or the registration process can be directed to RegulatoryAnalysis@law.upenn.edu .



   Follow the Penn Law Executive Education LinkedIn page for the latest updates.