U.S. Corporate Law and Strategy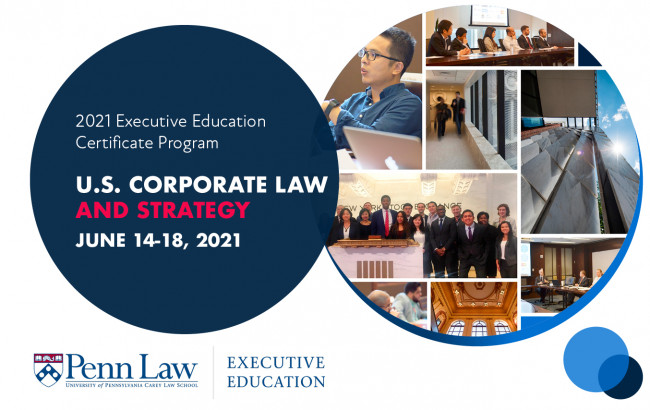 2022 Executive Education Certificate Program
Anticipated in the Summer 2022
Dates, Program Fee, and Application Deadline are Forthcoming in Fall 2021
 
Program Overview
U.S. Corporate Law and Strategy is geared towards allowing practitioners to meet the unique challenges of doing business in the United States. This five-day, live, virtual course will focus on several areas of corporate law as it relates to various stages of a business life cycle, including: founding and startup, formation and growth, governance, mergers and acquisitions, and reorganization.
Using an interdisciplinary and practical approach, this program will provide participants with not only an understanding of the unique legal considerations as it relates to a business's diverse life cycle, but also the skills needed to represent clients or provide legal advice on these matters.
Why You Should Attend

Who Should Attend?
The program offers valuable skills for lawyers trained outside of the United States seeking to expand or grow their practices or transition to a new, business-oriented practice, and is well-suited for U.S. trained lawyers without a corporate background who are seeking to gain a deeper understanding of business-centric practice areas of U.S law.
Participants who complete the program will earn a certificate in U.S. Corporate Law and Strategy from University of Pennsylvania Carey Law School.
Faculty Co-Directors
Featured Speakers in U.S. Corporate Law and Strategy
Michael Knoll
Theodore K. Warner Professor of Law; Wharton Professor of Real Estate;
Co-Director, Center for Tax Law and Policy
Sarah Pierce
Legal Practice Skills Senior Lecturer;
former Counsel at Skadden, Arps, Slate, Meagher & Flom LLP
Topics Covered*
*Topics and scope are subject to change.
Program Schedule
Forthcoming in the Fall 2021.
Program Details
Continuing Legal Education Credits (CLE)
CLE credits may be available for lawyers in attendance. If you have any questions regarding CLE credits for this program, please email us at cle@law.upenn.edu.

Financial Assistance
A limited amount of financial assistance may be available to qualified applicants. Requests for more information on the qualifications and availability of assistance can be directed to USCorporateLaw@law.upenn.edu.
Contact Us
Questions about the program, application process, and admissions can be directed to USCorporateLaw@law.upenn.edu.

   Follow the Penn Law Executive Education LinkedIn page for the latest updates.