Student Programs & Opportunities
Penn Law provides numerous opportunities for students to engage in environmental issues beyond the Law School classroom. Students can gain practical experience through clinical externships in environmental law; strengthen their advocacy skills through environmental law moot court competitions; engage with the local and national communities on environmental law initiatives; and take advantage of interdisciplinary opportunities across the University campus.
Environmental Law Project
Penn Law's Environmental Law Project supports students in applying an interdisciplinary focus to address the legal, scientific, economic, political and social factors that are involved in environmental lawyering. Students engage in pro bono and for-credit research projects to actively address the unmet needs of environmental preservation and justice on local, regional, national and international levels through support for legislative advocacy, community lawyering, and policy research. Past areas of student research and work have involved issues such as public access to information, waterfront development and protected area status. 
Clinical Externship with the Delaware Riverkeeper Network
Penn Law students may obtain Gittis Clinic Externships with the Delaware Riverkeeper Network ("DRN"), an advocacy organization that works to restore and protect the Delaware River watershed. DRN's legal clinic maintains a docket of robust citizen enforcement actions and other unique environmental cases, including matters in federal and state courts in the watershed states of New York, Pennsylvania, New Jersey and Delaware. Recent cases have addressed sewage permits, floodplain development and wetlands violations. Working in DRN's legal clinic, externs take an active role in all aspects of daily litigation practice, including case development, research and drafting, court appearances, depositions and discovery, meetings and coordination with other attorneys and advocates.
EPA Notice and Comment Rulemaking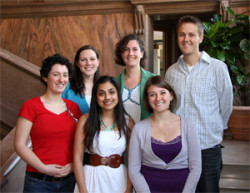 Penn Law students have participated in notice and comment rulemaking regarding regulations that address environmental issues. Participating in rulemaking through the drafting of comments on proposed legislation gives students important experience in writing and legal advocacy and an opportunity to make a real impact on significant public policy issues. Of more than 130,000 comments submitted to the government on the greenhouse gas auto emissions rule, for example, the comment drafted by Penn Law students was singled out and discussed several times in the final rule document issued jointly by the EPA and the National Highway Traffic Safety Administration.
Environmental Moot Court Competitions
National Environmental Law Moot Court Competition: Penn Law students experience environmental litigation firsthand in this competition which is structured with three adverse teams arguing the issues, reflecting the fact that environmental litigation frequently involves multiple parties: the government, a public interest group and a member of the regulated industry. Teams write and file briefs for their respective parties in early December and participate in the oral phase of the competition in February. Those with the highest combined scores for both the written brief and oral argument advance to succeeding rounds. 
International Environmental Moot Court Competition: Penn Law students also participate in this competition, where finalists face adversaries from around the world. The competition provides an excellent opportunity to explore issues of international environmental law in the context of a dispute before the International Court of Justice. Written submissions are evaluated by international environmental legal experts, selected with the assistance of the ABA International Environmental Law Committee, Section of International Law and Practice. Oral arguments are evaluated by local attorneys and judges who have experience in international law, environmental law, and appellate advocacy. 
Environmental Student Group Opportunities on the Penn Campus
Projects
Research
National Resources Defense Council: Worked collaboratively with staff attorneys on a manual for citizens in Pennsylvania who are concerned about oil and gas drilling (and other production activities, including hydraulic fracturing) in their area
Friends of Farmworkers: Drafted informal memorandum summarizing relationship between food justice organizations and farmworker advocacy groups across the country.
Southern Utah Wilderness Alliance: Drafted memorandum summarizing and analyzing Utah's water antidegradation policy. Drafted memorandum on various issues surrounding a land use case now pending before the 10th Circuit about R.S. 2477 rights of way on public land.
Regulatory
Notice & Comment: CAIR Penalty Provision Revisions
Environmental Justice
Public Interest Law Center of Philadelphia: Worked to develop initiative that provides pro bono legal assistance to urban farmers.
Academic Programs on the Penn Campus
Wharton
The Environmental and Risk Management Program is concerned with public and private sector issues in designing and implementing effective strategies related to the impacts of business activities on the environment and related areas in health and safety. The program provides an interdisciplinary approach, building on faculty and courses from departments such as Accounting, Health Care Management, Insurance and Risk Management, Legal Studies, Management, Marketing, Operations and Information Management, and Business and Public Policy and Management.
The Initiative for Global Environmental Leadership was established by Penn and Wharton faculty, in consultation with business, NGO, and government representatives. The Initiative's mission is to develop and disseminate business solutions to sustainability on a global scale through future leaders and public outreach regarding best business practices and sustainable profit opportunities.
Institute for Environmental Studies 
Penn Law offers both a certificate and two different joint degrees with the Institute for Environmental Studies.
The African Centre for Technology Studies (ACTS) is an international non-governmental policy training and research institute located in Nairobi, Kenya. The Centre focuses on enhancing national capacities for sustainable development, particularly the implementation of environmental treaties