Purchasing & Procurement
The University of Pennsylvania has established purchasing policies and protocols to help University faculty and staff purchase effectively and compliantly. 
Systems and processes have been put in place to help facilitate smart purchasing practices; we partner with members of the Penn law community as stewards in administering these processes to help ensure the University is properly: Mitigating risk, Purchasing compliantly, Containing costs and Maximizing overall value to the University. 
University Purchasing Policy
You may find the applicable University Policy located - here .
Please contact the Business Affairs Office to confer re. operational approach before proceeding with transactions - at our preferred location - businesshelp@law.upenn.edu.  Please secure and remit the appropriate documentation to Business Affairs in order to process all transactions.  
Penn Law Purchasing Process
Purchasing and the related payment transactions are initiated by (designated) BAs at the departmental level and then processed centrally by Penn.  For additional reference, please see the following University prescribed processes:  Purchase Order Process , Shoppers Guide and "Procure-to-Pay" (P2P) Process .

Below is the Penn Model for Purchasing.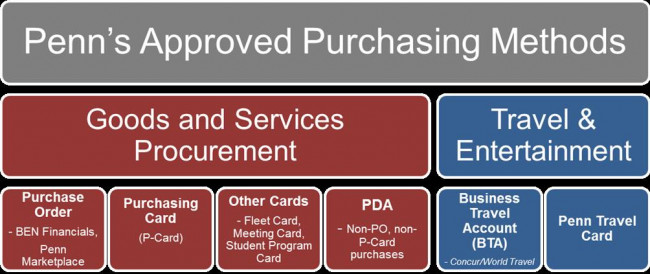 For the procurement of goods and services at Penn, there are two approved methods of purchase:
Purchase Order
The first, and most preferred method of purchasing at the University is to establish a Purchase Order (PO). 
Purchasing Card (P-Card)
Where permitted, smaller purchases (generally less than $1,000), which may not be feasible for PO issuance, may be ordered using a University issued Purchasing Card (P-Card).
Other Cards
Additional, function-specific purchasing cards are available for event and meeting planners, managers of fleet vehicles, and students authorized to make purchases on behalf of Penn.
For more information on Penn's procurement cards CLICK HERE .
Procurement Disbursement Authorization (PDA)
For payments that are not able to be transacted by PO or approved procurement card, the PDA form and process serve as a payment request for direct payment.
CSR
 Please review the below documents for instructions on how to access CSR funding.
Procurement Resources