Travel & Reimbursements
The University of Pennsylvania has established purchasing policies and protocols to help University faculty and staff purchase effectively and compliantly. 
Systems and processes have been put in place to help facilitate smart purchasing practices; we partner with members of the Penn law community as stewards in administering these processes to help ensure the University is properly:  Mitigating risk, Purchasing compliantly, Containing costs and Maximizing overall value to the University.
University Purchasing Policy
You may find the applicable University Policy located - here .

Please contact the Business Affairs Office to confer re. operational approach before proceeding with transactions - at our preferred location - businesshelp@law.upenn.edu.  Please secure and remit the appropriate documentation to Business Affairs in order to process travel and reimbursement requests.  

Purchasing and the related payment transactions are initiated by (designated) BAs at the departmental level and then processed centrally by Penn.  Below is the Penn Model for Purchasing.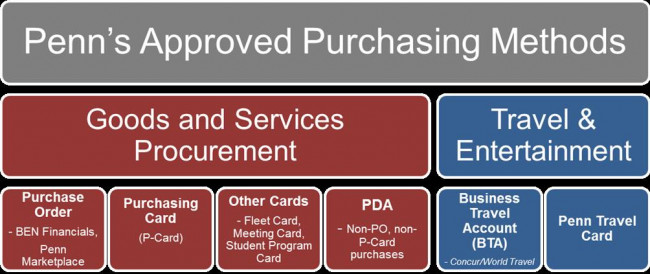 **NOTE:  For all Non Penn Affiliate Visitors (US/Non-US] seeking travel reimbursement - please  refer to the appropriate checklist referenced in the "Travel and Reimbursement Resources" Section located at the bottom of this page.
Concur/World Travel Business Travel Account

Travelers may book air, lodging and rental cars through the Concur online booking application, or by phone through Penn's preferred travel management company, World Travel.  In doing so, travelers have the option to charge business-related airfare through the centrally billed (BTA). Hotel and rental car reservations require the Penn Travel Card or a personal credit card to hold the reservations.  The resources listed below are useful for Penn Law Faculty, Staff and Students seeking reimbursement through Concur:
Supplier Portal
The University of Pennsylvania is pleased to announce that it has introduced a new online portal as part of Penn's ongoing efforts to improve the reimbursement process.
The new portal, is a web-based solution that allows travelers to collaborate with Penn in a secure, online environment. All individuals (not affiliated with Penn) need to be invited to use the portal.
STAFF/STUDENTS - Click here to enter the Supplier Portal Onboarding Website
REGISTERED SUPPLIES - Click here to enter the Supplier Portal
Supplier Portal Resources
Penn Travel Card for Penn Law Community
For hotel, rental car and all other reimbursable travel and entertainment expenses, Penn offers the Penn Travel Card, a Visa card issued by Bank of America Merrill Lynch.  The Penn Travel Card integrates with Concur, linking travel charges directly into the Concur expense system for ease in the travel expense management process.

More information about University Travel & Expense Management - please select - here .
Travel and Reimbursement Resources
Please login to Concur for direct billing of travel. Indicate budget to be charged and business purpose so Business Affairs can approve within 24 hours. Please book travel between 12 PM Sunday and 12 PM Friday.