Conferences and Events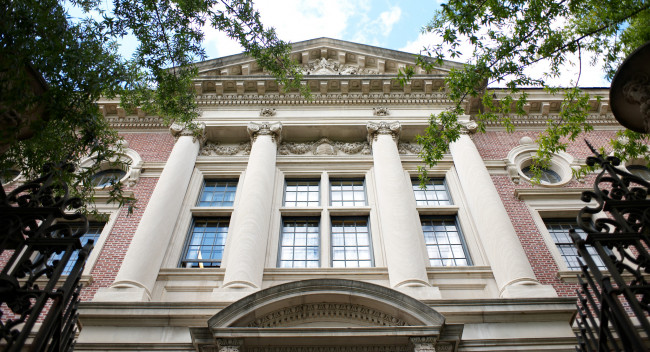 Important COVID-19 Measures and Procedures
Due to the COVID-19 pandemic, the Law School's building hours, policies, and procedures related to events have changed. In-person events which are not course-related are not permitted during the Fall 2020 semester and until we have more information from City and University leadership on a safe transition back to normal operations on campus. In the interim, all events will be hosted virtually. Virtual events allow us to expand our participant lists, both speakers and attendees, around the globe and we stand by ready to assist as you consider these new opportunities.
The Law School has created a new protocol to better coordinate and report on virtual events and programs that enrich the intellectual life of the Law School and the broader legal community. Members of the Law School community who plan to host a faculty, student, or department or center-initiated virtual program during the fall semester, are asked to fill out this survey. This process will help identify opportunities for collaboration, minimize the number of conflicts, and ensure that adequate resources are allocated for virtual programs.
If your event is open to members of the Law School community or the public, you must first complete the survey before adding your event to the Penn Law Events Calendar. More information on all aspects of event planning, including a Virtual Event Best Practices Guide, can be found on the Conferences web pages.

Helpful Links:
Meet Our Team
Dori Pavel

Kate Aicardi

Elisabeth Aulepp

Anna Gavin

Neoshie Giles

Carlyn Miller
About Us
The Conferences & Events Department advances the academic mission of Penn Law by showcasing the scholarship of our world-class faculty and their guests through conferences, symposia, lectures, ad hoc workshops, and other events. We plan and implement annual ceremonies including Commencement and large-scale campus-wide events such as groundbreakings, dedications, and celebrations of important anniversaries.
Our staff leads a working group of Penn Law event managers, PLEM, which meets monthly to share information, foster dialogue between departments, and assure that Penn Law qualities of excellence and collaboration are maintained across all law school events.
The Conferences and Events team can advise on logistics and guide best practices - from staffing plans to preferred caterers. We also help in developing proposals, publicity plans, and timelines, and can advise on event-related university policies and procedures.