Virtual Tour
We encourage prospective students to register for a live student-led virtual tour during the Fall semester. For dates and registration information, please visit our "Connect With Us" page. Please note, these tours are geared towards the JD program.

Please view this short video for a quick snapshot of the University of Pennsylvania Carey Law School campus.
This tour will guide you through the Law School's major architectural highlights and history.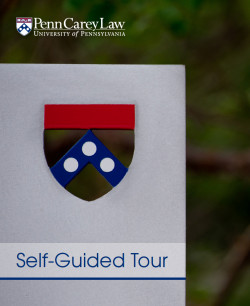 Uniquely among law schools, the Law School features four interconnected buildings set around a central Courtyard with faculty and staff offices, classrooms and seminar rooms, and student spaces are interspersed throughout the physical plant. The integrated design reinforces the collaborative spirit of the Law School community.
The Law School's state-of-the-art facilities include a large auditorium, high-tech classrooms and seminar rooms, a modern moot court room, numerous common areas for student learning and interaction, as well as indoor and outdoor spaces for quiet reflection.