Annual Report
Each year, Penn Law publishes the Annual Report to recognize the contributions made by our alumni and friends. Without their generosity, it would be impossible to maintain the Law School's tradition of excellence.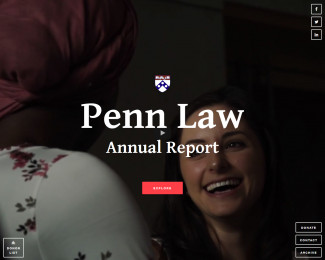 We are proud to share with you our first-ever digital Annual Report and reflect on last year's amazing milestones.
The secret to our success here at Penn Law is our community and we're thrilled to have you as a part of it.
The Annual Report features stories on:
Lawyers for a New Era

Graduates Prepared to Excel

Connecting Disciplines

Trailblazing Scholarship

A Global Vision

Lifelong Connections

View the 2018-2019 Annual Report 
Previous Annual Reports