Hotel Information
Conference Hotel:
Savoy Hotel Roma (4 star hotel, central Rome)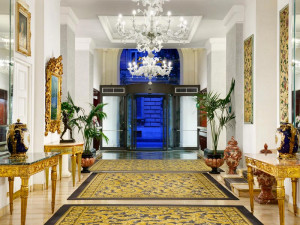 Website: www.savoy.it
Room rates (breakfast included):
Single: €185.00
Double: €215.00
Triple (for families with children): €275.00
 A block of 15 rooms has been reserved for PLES until April 30th.
To reserve rooms, please go to the hotel's website, www.savoy.it, or email the hotel at reservations@savoy.it. 
If booking through the hotel's website please use the"Customer IATA Code" and enter PLES* to receive the discounted rate.
* If you would like to book a room for more than two nights, or if you plan on booking a room after April 30th, please email the hotel at reservations@savoy.it and include our PLES 2015 organizer, Svitlana Stepaniuk (stepaniuksvitlana@gmail.com) in the email!
June is considered high season in Rome, so we encourage you to book your hotels as soon as possible.
Other Options:
There are at least 10-12 other hotels in Via Veneto area of Rome, where The Savoy is located. The Westin Excelsior Rome (5 star hotel, now quoted at €475 per night), and Imperiale Hotel (4 star hotel, now quoted at €185 per night) are both within walking distance of the Savoy. Additional good value options may be available through Expedia and other hotel booking websites.