Information
Conference Fee
"Early Bird" Rate (on or before April 30th): €310 per person
"Early Bird" Rate for Recent Graduates (Class of 2010 and younger and guests): €270 per person

Standard Rate (after April 30th): €340 per person

Standard Rate Recent Graduates (Class of 2010 and younger and guests): €300 per person
Children Under 16: €250 per child

Registration is now closed.
Please reserve your hotel accommodation as soon as possible.
Optional Extension Program* 
We have organized a 5-day extension program (June 22nd through June 26th) to travel with a private guide through the Italian regions of Umbria and Tuscany, with stops in destinations including Gubbio, Orvieto, Montepulciano, and Assisi.
*If you wish to participate in this optional extension program, please contact Svitlana Stepaniuk and Simone Lucatello as soon as possible: stepaniuksvitlana@gmail.com and simonelucatello@yahoo.com. 

Costs will depend on the number of people, but are likely to be around €700 per person, which includes transportation (by minivan), 4 nights of accommodations in 4-star hotels, half board (breakfasts and dinners, drinks excluded), and the services of an English-speaking guide.
A brief description of some of the destinations is below:
Gubbio.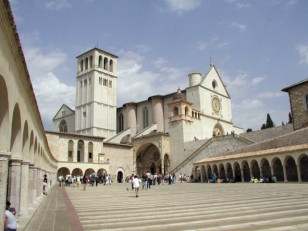 This town in Umbria is beautifully located on the lower slopes of Mt. Ingino. Gubbio is a very ancient town mentioned in the famous Eugubine Tablets and, in the past, was the capital of Umbria. Gubbio's compact town center boasts a wide selection of medieval, Gothic and Renaissance structures built of gray limestone as well as striking views of the picturesque countryside. One of the main sights of Gubbio is the Duomo (Cathedral) of Gubbiowhich dates from the late 12 century. Just outside the town is a Roman amphitheater.
Orvieto.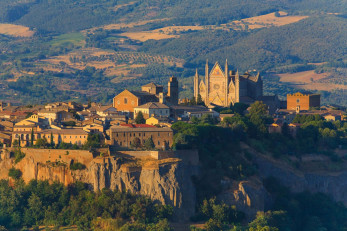 Orvieto is a city in the Province of Terni in southwestern Umbria, Italy situated on the flat summit of a large butte of volcanic tuff. The site of the city is among the most dramatic in Europe, rising above the almost-vertical faces of tuff cliffs that are completed by defensive walls built of the same stone called Tufa. The territory of Orvieto was under papal control long before it was officially added to the Papal States (various dates are quoted); it remained a papal possession until 1860, when it was annexed to unified Italy. The site of Orvieto was once an Etruscan acropolis.
Montepulciano. Standing high atop a hill in southern Tuscany not too far from Siena, Montepulciano is a medieval town of rare beauty highly recommended to visitors of Tuscany. The city, full of elegant Renaissance palaces, ancient churches, charming squares and hidden corners, also has vast panoramic views of the wonderful Val d'Orcia and Val di Chiana valleys that surround it. A walk through Montepulciano is the best way to explore the town and its beautiful landmarks as well as enjoy stunning views of the surrounding countryside covered by the vineyards that produce the famous Nobile!
Assisi.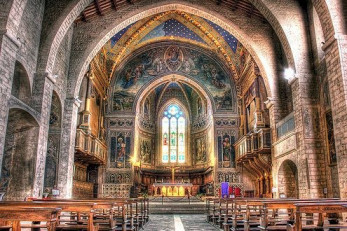 It was the birthplace of St. Francis, who founded the Franciscan religious order in the town in 1208, and St. Clare, the founder of the Poor Sisters, which later became the Order of Poor Clares after her death. UNESCO collectively designated the Franciscan structures of Assisi as a World Heritage Site in 2000 (the Basilica of San Francesco d'Assisi, the monastery etc.)
In all of these places, we will be enjoying the delicious Umbrian and Tuscan Cuisines:

Umbrian Cuisine is distinct from the others despite its small size. Locally grown lentils, cardoons, porcini mushrooms and chestnuts are important staple foods in Umbria recipes. White truffles are a delicacy eaten fresh in Umbria cuisine. Norcia, a town in Umbria, provides most of Italy's black truffles. Umbria recipes use truffles to elevate the plainest egg, pasta or meat dishes to a gourmet meal. They are also made into a paste with garlic and anchovies. Black truffles are used in many ways, including to flavor local Pecorino cheese. Probably the most typical Umbrian pasta dish is spaghetti – or strangozzi – with black truffles. 
Tuscan cuisine. The origins of Tuscan food are rather rustic, as we can see from its basic ingredients: bread, even stale bread, spelt, legumes and vegetables. Some typical appetizers are crostini (toasted bread) topped by spreads like cream of chicken liver and spleen, panzanella and salame, including finocchiona, a fennel-flavored salame. Wine production in Tuscany is excellent for both variety and quality: Tuscany produces the finest wines in Italy, from Chianti to Vino Nobile Montepulciano, Brunello di Montalcino, Vernaccia di San Gimignano and many more. Vin Santo, a sweet and liqueur-like wine, is paired with cantucci (almond cookies, or what Americans refer to as biscotti).