Support Penn Law
The Penn Law we know today would not exist without our friends & alumni.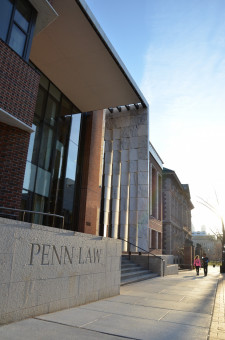 Our cutting edge program is possible thanks to the generosity of our donors. The Fund for Penn Law continues to grow and fulfill yearly needs for key elements of the Penn Law education, including scholarship, Biddle Library, clinical programs, and public interest efforts. The Quattrone Center, the Detkin IP Clinic, and the Chubb Rule of Law Fellowship all exist thanks to the efforts of donors who wanted to create exciting new learning opportunities for students. And of course, there is Golkin Hall - the physical representation of the overwhelming support of our alumni, creating a state-of-the art space for the entire Penn Law community.
We hope you will consider making a gift to Penn Law. By supporting the Law School, you are supporting the cross-disciplinary curriculum that will help our students to become tomorrow's leaders, whether they are affecting change right here in Philadelphia or across the globe.
Ways to Give
The Fund for Penn Law

The Fund for Penn Law is a critical component of our success. Find out more about unrestricted giving at Penn Law.
Contact: Genvieve Shields,  215.898.0860, gshield@law.upenn.edu
Restricted Giving
Named funds and endowments are available to donors who would like to restrict their gifts for specific purposes.
Contact: Laura Tepper, 215.898.5653, ltepper@law.upenn.edu

Planned Giving

Through the years, many individuals have found planned gifts to be an excellent vehicle for benefiting Penn Law while obtaining favorable tax benefits. Penn's Office of Gift Planning helps donors tailor bequests and structure gifts of stock, real estate, life insurance, or retirement plans to maximize tax savings while supporting the Law School. A variety of life income arrangements are also available, including Charitable Gift Annuities, and Charitable Remainder Trusts. Find out more about Penn's Office of Gift Planning.

Contact: Al Russo, 215.573.1198 alrusso@law.upenn.edu

Penn Law@Work
Penn Law@Work is a two-month program that challenges law firms with Penn Law alumni to reach new levels of participation and giving. Learn more about Penn Law @Work.

Contact: Elizabeth Sarshik, 215.746.0341, esarshik@law.upenn.edu