The Dean Clinton Society
The Fund for Penn Law is proud to announce the formation of The Dean Clinton Society.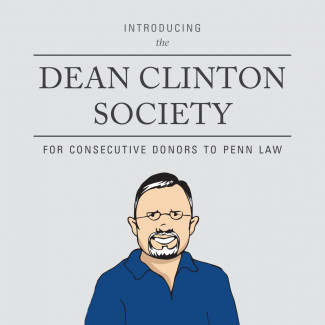 This groundbreaking society has been put in place to honor the ongoing dedication of Dean Gary Clinton to the Law School and the loyalty of our donors who make consistent gifts to any area of the Law School, year after year.
This commitment to the efforts of Penn Law every fiscal year (July 1- June 30) demonstrates the ongoing backing of nearly 2,000 alumni donors. The members of this society are the foundation for the strong tradition of giving at Penn Law.
Make your gift and join the Dean Clinton Society today!
We are proud to announce this tribute of Dean Gary Clinton in recognition for his 35+ years of service to the Law School. In his time here, he has fostered the traditions of Penn Law and the collegial spirit of its community. Membership in the Dean Clinton Society will be recognized through publication in our Annual Report, the Penn Law Journal, and a fiscal-year-end email to the entire Penn Law community.
If you have questions about membership in the Dean Clinton Society, please contact:
Genvieve Shields, Director of the Fund for Penn Law.