Penn Law Oral History Project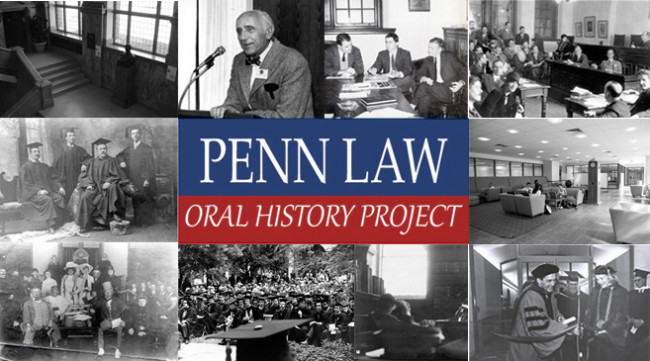 Penn Law is quite proud of its alumni, and in order to honor them and their achievements, we present the Penn Law Oral History Project. View all Oral History videos on our YouTube channel

What is it?
Our goals for the Oral History Project are twofold:
to record stories and recollections about Penn Law, its professors, and the experiences of students throughout the years;
to highlight the impact of a Penn Law education through first-hand narrations of achievements, challenges, and relationships by the alumni who lived them.
What can I talk about?
You can discuss your memories of Penn Law, including your friends, classmates, professors, classroom experiences, etc. You can also talk about your experiences in Philadelphia, your career after graduation, and how you were affected by your time at Penn Law. We seek to create a thorough, multi-faceted record of Penn Law's history, so that we can tell our story to future generations of students.
How can I be interviewed?
If you would like to schedule an Oral History interview (preferably on video), please call Andy Maynard (215.898.2809) to make arrangements.