Clerkships
The careers of a record number of University of Pennsylvania Carey Law School graduates now begin in judicial chambers across the country. In recent years, our clerkship counseling and faculty assistance have helped hundreds of students and recent alumni secure appointments at all levels of the judiciary, including coveted positions with the U.S. Supreme Court.
Our Dean and faculty, many who have themselves held prestigious clerkships, are highly supportive of our clerkship program. We have a dedicated Faculty Clerkship Committee whose members are available for consultation. Moreover, our Clerkship Advisor, Chris Fritton, will be able to assess your clerkship candidacy, guide you through the application process and is available for one-on-one counseling. To sign up for our Clerkship LIstserve, click here.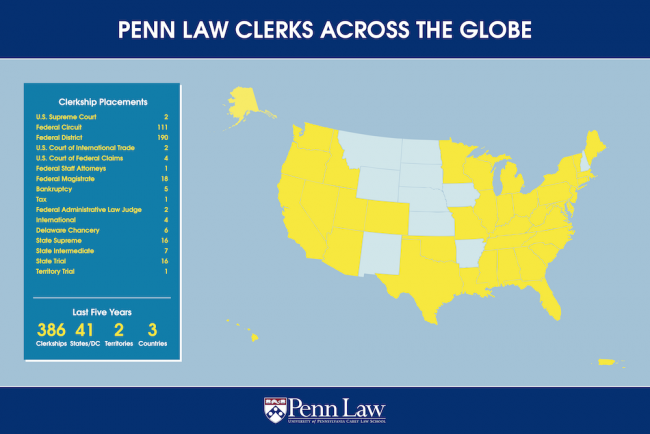 We offer extensive programming on the value of clerking and are committed to supporting your efforts and make the process run smoothly – and successfully. Students are supported by a strong network of former clerks, alumni judges and faculty members committed to maximizing the clerkship success of our students and alumni.