Free Mediation Services
Penn Law School's Mediation Clinic offers free mediation services throughout the greater Philadelphia region. During the current COVID-19 pandemic, all mediation services are offered remotely using Zoom video conferencing, telephone, or other technology.
Our mediators are highly trained law students supervised by experienced faculty who assist you in discussing the situation and generating your own solutions, in a safe and confidential setting. Mediation allows you to talk about the events related to the disagreements in the presence of a neutral facilitator who helps you and the other party reach agreements that consider all parties' concerns.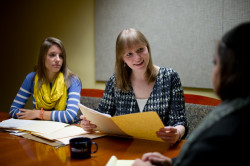 Some of the Cases We Mediate
| | |
| --- | --- |
| Family Disputes | Consumer Disputes |
| Child Custody Concerns | Workplace Conflicts |
| Landlord-Tenant Disputes | Neighbor or Roommate Problems |
To Request Mediation Services
Contact the Mediation Clinic at 215-898-8427 (leave a voice message) or email us at Mediation@law.upenn.edu.
We also accept online applications. Click on the link below to complete a survey regarding your request for Mediation assistance.