For Students: About the Mediation Clinical Course
Mediation Defined
Mediation involves the intervention of a neutral third party into an existing or threatened dispute, with the aim of facilitating a negotiated resolution of the conflict. Lawyers are increasingly immersed in this arena, both as mediators and as traditional representatives of clients whose matters are subject to a mediation resolution. The number of disputes that are resolved through mediation now exceeds exponentially those that are tried in courts. It is also a subject of great interest to transactional lawyers.
Clinical Skills
The Mediation Clinic focuses on developing students' skills and addresses the role and ethical issues in the mediation function. But, in the process, it teaches much more. By the end of the course students will have learned a great deal about listening and empathizing, dispassionately evaluating cases for litigation and advising clients in that realm, identifying solutions to problems and negotiating effectively, presiding over a meeting – in short, the skills that all lawyers need and that clients value.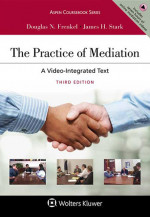 Penn Clinic cases are featured in a THE PRACTICE OF MEDIATION: A VIDEO-INTEGRATED TEXT (Wolters Kluwer, 3d. Ed. 2019), co-authored by Penn Law Mediation Clinic Director Douglas Frenkel, the multimedia book with which students are trained and which has become the text of choice for mediation clinics and courses around the nation.
The Course
The course consists of two main components:
Classroom: students receive intensive skills training and engage in observations of outside neutrals in actual adjudications and mediations. Using discussion, video and simulation exercises, students learn the entire range of mediation skills prior to commencing fieldwork in the second half of the course. The classroom component continues with in-class discussion of student fieldwork experience, focused discussion of ethical issues and advanced skills topics and seminars on themes ranging from restorative justice to representation of clients in mediation.
Fieldwork: students are the frontline mediators in a wide array of cases. With a faculty supervisor present, students co-mediate an average of 4-5 cases per semester at courthouses, government agencies and at the Law School in areas that include civil litigation, criminal, domestic, campus student discipline and international child custody disputes and employment discrimination matters. Following every mediation, students debrief with the faculty supervisor to complete the learning experience.
Registration Information
Mediation Clinic:
One semester course offered both Fall and Spring semesters
# of Credits:

5 credits (may drop one credit in exchange for satisfying 35 hours of student's pro bono requirement).

Pre-requisites:
None
Registration Information:

Open to JD 3L students and 1st and 2nd semester 2L students.

LLM students may enroll, but should not register during Advance Registration as an interview with Clinic faculty is required.  Consult these Registration instructions. 
SHAREPOINT LINK: Mediation Clinic SharePoint