Transnational Legal Clinic
Students engage in the direct representation of clients and organizations in international human rights and immigration proceedings in the Transnational Legal Clinic, the University of Pennsylvania Carey Law School's international human rights and immigration clinic.
Since its founding in 2006, students have represented individuals seeking asylum and other forms of immigration relief from across the globe and have worked alongside and on behalf of international human rights and community-based organizations before regional and international human rights mechanisms on a range of rights-based issues, particularly as they relate to migrants and internally-displaced persons.

In recognition of International Migrants Day on December 18th, a day designated by the United Nations to celebrate the role of the migrant and to promote the protection of the rights of migrant workers and their families, the Transnational Legal Clinic released "Isolated by Force: Denying Migrant Farmworkers Access to Services."
Immigration Highlights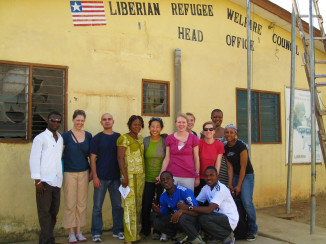 Members of the Transnational Legal Clinic assisted in gathering information from Liberian refugees in Ghana for The Liberian Truth and Reconciliation Commission. Prof. Sarah Paoletti and students traveled to Ghana to take statements about refugees' experiences in Ghana and war-torn Liberia.Students in the Clinic have successfully represented clients from countries as diverse as China, Indonesia, Saudi Arabia, Lithuania, Mali, Guinea, Ethiopia, Rwanda, El Salvador, Guatemala, and Mexico. Working in teams of two and under faculty supervision, students are responsible for all aspects of client representation, including interviewing, legal and factual research and analysis, case theory and narrative theory development, affidavit drafting, brief writing, negotiation, and preparation of fact and expert witnesses. Students then serve as lead counsel during the trial, delivering opening and closing arguments, and conducting all direct and cross-examinations of their client and other witnesses.
The areas of immigration practice in which the students engage include the following:
| | |
| --- | --- |
| Asylum and Withholding of Removal | Students have successfully represented individuals in cutting-edge legal claims, such as fear of persecution based on gender-identity and sexual orientation, female genital cutting and domestic violence, as well as claims based on family identity, political opinion, and religion. |
| U and T Visa Representation | Students have successfully assisted in the representation of over 20 men subjected to forced labor through fraud and coercion in obtaining T visas available to victims of labor trafficking, and continue to represent individuals seeking relief in the form of a U visa, available to victims of particularly serious crimes where return to that client's country of origin would cause significant hardship. |
| Special Immigrant Juvenile Status | In collaboration with the Child Advocacy Clinic, students have represented unaccompanied minors who have escaped situations of abuse, abandonment and neglect in their homes and have arrived in the United States as arrived in the United States to seek safety, often in the care of a distant relative or close family friend. |
| International Human Rights Advocacy | Students working in teams and in close collaboration with partner and client organizations in developing and implementing strategies for utilizing the international and regional human rights mechanisms to address a range of human rights issues both in the United States and beyond our borders. |
Students' Human Rights Advocacy Highlights
| | |
| --- | --- |
| Legal Advocacy Before the Inter-American Commission on Human Rights | Students have worked in collaboration with several local and national human rights organizations in requesting hearings before the Inter-American Commission on Human Rights, where they have presented testimony and extensive written documentation, using international human rights law to frame our partner organizations' priority issues of concern regarding U.S. policies and practices for detaining immigrants. |
| Advocacy for the UN Human Rights Council | In close coordination and consultation with a national human rights non-profit law office and grassroots organizations in Haiti, Clinic students worked to translate a series of persistent rights violations and issues of concern into the international human rights framework for Haiti's Universal Periodic Review before the UN Human Rights Council. Students also conducted workshops and trainings to the partner organizations and their members on how to effectively use international human rights law and mechanisms in their own domestic advocacy. |