Cross-Disciplinary for JDs
Penn Law's vision of legal education is built on our cross-disciplinary curriculum.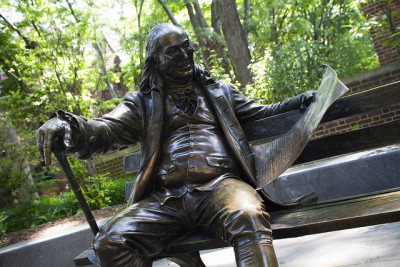 As an institution, it is our belief that a legal education, combined with fluency and knowledge of other fields, is critical to addressing the increasingly complex problems and issues facing society.   
By virtue of our cross-trained faculty's expertise, students will receive cross-disciplinary exposure right here at Penn Law.  But the Law School's partnerships with its world-class sister schools here at the University of Pennsylvania offer opportunities to build even deeper inroads in complementary fields.  While most law schools are isolated from their universities, Penn Law has followed the opposite path, nurturing relationships with as fine an array of law-related professional schools as you will find in the country.
In addition to the wide range of interdisciplinary courses and clinics right here at the Law School, all JD at Penn Law are permitted to take up to four (4) non-law classes towards their degree. 
Students utilize these outside opportunities in varied ways - from taking intersecting courses at different schools/programs to gaining fluency in a language to pursuing one of the many Certificates of Study or Joint Degrees the Law School has developed in partnership with its sister schools.
Opportunities for JD Students