People
2020-2021 Executive Board
ERIK NICKELS (Co-President)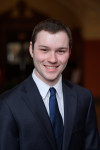 Bio: Erik Nickels (Citizen Potawatomi Nation) currently serves as NALSA's Co-President. Erik grew up in Oklahoma, and received a Bachelor of Business Administration from the University of Oklahoma before coming to Penn Law. Outside of NALSA, he is also involved with The University of Pennsylvania Law Review and the Keedy Cup Moot Court Board. He plans to pursue a career in disability advocacy, advocating for the rights of people with psychiatric disabilities. In his free time, Erik is an avid chess player and trivia fan.
Contact Info: enickels@pennlaw.upenn.edu
Brooke Parmalee (Co-President)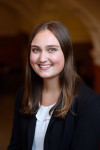 Bio: Brooke Parmalee, class of 2022, currently serves as NALSA's co-president. She is a proud member of the Schaghticoke Tribal Nation. She grew up close to, and frequently visiting, Schaghticoke Tribal Nation's beautiful Kent reservation. Witnessing her tribe's legal battle with the State of Connecticut for just land compensation and their fight to restore their once granted, and unfairly revoked, federal recognition is what inspired her to pursue a legal career. After law school, she hopes to pursue Native Law in order to help her tribe, and tribes alike, in their legal battles for justice. This past summer, she worked as a Summer Associate at Philadelphia Holland & Knight, working in part with their D.C. office focusing on Native Law.
Contact Info: brparm@pennlaw.upenn.edu
Magali duque (outreach coordinator)
Bio: Magali Duque, class of 2022, currently serves as NALSA's outreach coordinator. 
Contact Info: mmduque@pennlaw.upenn.edu
kelsey haake (1l representative)

Bio: Kelsey Aiġan Haake, class of 2023, currently serves as NALSA's 1L representative. She is Iñupiaq, born and raised in Utqiaġvik, Alaska, the United States' northernmost point on her ancestral lands. She is married and has three children. Before law school, she worked as a Certified Financial Planner bridging gaps between the western way of handling money and Indigenous culture and values. She brought financial literacy and financial planning to tribes and Alaska Native Corporations (ANC). However, the more she became intertwined with tribes and ANC's across the U.S., the more she realized we are continuing to fight legal battles, many of which stemming from treaties and agreements that have been in place for decades. She is looking forward to making a difference on a local and national level for Native                                 Americans in the future.
Contact Info: khaake@pennlaw.upenn.edu 
Dr. Maggie McKinley (Faculty Advisor)

Maggie McKinley (Fond du Lac Band of Lake Superior Ojibwe) teaches in the areas of constitutional law, federal Indian law, and legislation.  Her research combines empirical, theoretical, and historical methods to examine the structural representation and empowerment of minorities.  Her current project focuses on legislation, petitioning, lobbying, and Federal Indian law.  She is a collaborator with the North American Petition Project in the Harvard Department of Government and she also ran an eleven-month mixed-method field study of federal lobbyists in Washington, D.C.  Prior to joining the faculty at Penn, McKinley practiced union-side labor law at Bredhoff & Kaiser.  She also clerked for the Honorable Susan P. Graber for the United States Court of Appeals for the Ninth Circuit and the Honorable Chief Judge James Ware of the Northern District of California.  McKinley earned a J.D. from Stanford Law School and a B.A. in linguistic anthropology from UCLA.  Prior to entering law school, McKinley worked for a number of years as a social science researcher on large-scale interdisciplinary projects
Alumni
Makenzie Way (Founder of NALSA)

Bio: Makenzie Way (Eastern Woodland Metis Nation of Nova Scotia) class of 2020, is the founder of NALSA. During her time as a law student, Makenzie also pursued a Masters of Liberal Arts Degree in Legal Studies at the Harvard Extension School, where she worked on publishing a thesis pertaining to the negative effects of mandatory sentences on the Canadian Aboriginal Population. She also received her Bachelor of Arts Degree in Philosophy and Sociology from Saint Mary's University in Nova Scotia, Canada, and has studied abroad in Mexico and China. 
Contact Info: makenzie@pennlaw.upenn.edu