Irish Criminal Law Codification Project
The Criminal Law Codification Advisory Committee, created by Part 14 of the Criminal Justice Act 2006; oversaw the process of codifying the criminal law.
Following enactment of a criminal code, the Committee will also oversee any further maintenance of the code so as to preserve its internal logic and structure in the course of the ordinary program of criminal law reform and amendment.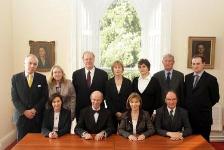 View a list of committee members
Professor Finbarr McAuley, of University College, Dublin and Law Reform Commissioner, is the leading academic criminal lawyer in the country and chaired the Committee. The Advisory Committee was established after an Expert Group in January 2003 considered the possible approaches to codification and advised on the scope and extent of such approaches. The Group, chaired by Professor McAuley, included criminal law representatives from the State apparatus, practice, and legal academia.
Research Support Unit at UCD
The Research Support Unit is located in the School of Law in University College, Dublin. This Unit undertakes the research tasks assigned to it by the Advisory Committee and it will become in the longer term, a centre of excellence for the codification process. It received core funding from the Department of Justice, Equality and Law Reform to assist it with the project over its anticipated lifetime, estimated to be from 5 to 10 years.
Departmental Secretariat
In order to ensure the most effective linkage between the Government's on-going program of criminal law reform and the codification process itself, a permanent Secretariat of six staff drawn from the staff of the Department was established, working under the direction of Ms. Valerie Fallon, Principal Officer. This ensures a symbiotic relationship between the ongoing program of criminal law reform and the codification process.
First Phase
During the First Phase of the codification work, the Advisory Committee concentrated its efforts on drafting provisions that replaced four recent "mini-codes" enacted into law: