Pennsylvania Criminal Code Grading Study
The Pennsylvania Legislature's Senate Judiciary Committee and House Judiciary Committee jointly commissioned the Criminal Law Research Group to undertake a study of the criminal offense grading scheme contained in Pennsylvania criminal statutes.
The CLRG prepared an analysis and report, presented its findings to a joint session of the two Committees on December 15, 2009. The report examines the extent to which current code provisions define offenses with offense grades that are inconsistent with the relative seriousness of the offense as compared to other offenses, as measured by a survey of Pennsylvania residents. It also examines whether some offenses include within a single grade conduct of very different degrees of seriousness, for which different offense grades should be assigned. Several other sorts of grading problems are examined and illustrated. Finally, after explaining why proper grading judgments are important, the report discusses how the problems described came about, how they might be fixed, and how such problems might be avoided in the future.
Penn's Criminal Law Research Group at the Pennsylvania Capitol in Harrisburg: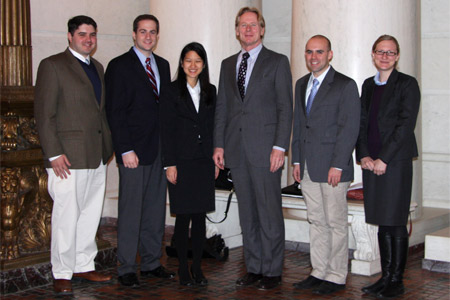 (from left) Tom Gaeta, Matthew Majarian, Phontip Tanompongphandh, Professor Paul Robinson, Douglas Weck and Megan Schultz. Not pictured are Henry Klein and Katherine Zlock.