Accelerating Women's Economic Participation (2017-2018)
Penn Law Student Fellows will provide research support to the United States Department of Commerce and USAID on their global programs on women's economic empowerment.
The initiative will identify challenges in the law that hinder women's economic participation, particularly in gaining employment and undertaking entrepreneurship, in countries where there is most room for impact, such as the BRICs. Moreover, it will seek to identify best-in-class examples, such as Canada, to highlight those interventions that translate law into action, promoting women's economic participation and opening up avenues for increased economic empowerment. Legal restrictions impede women's full and equal participation in the economy and limit economic growth in their communities and countries. Gender equality in work cannot be possible without gender equality in society.
Report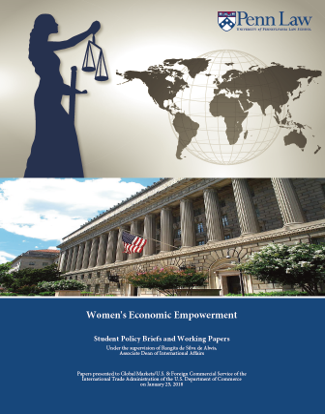 Student Fellows
Beatriz Brown, LLM'18 - United Kingdom
Shane Fischman, L'19 - United States
Claire Glossop, WG'18 - Canada
Gabriella Goncalves, LLM'17 - Brazil
Talya Kornitzer, LLM'18 - Canada's Indigenous Women
Kimberly Panian, L'18 - Mexico
Amal Sethi, SJD'19 - India
Leah Wong, L'18 - United States & Nigeria