Global Forum on Comparative & International Law
Each year, delegations of faculty and students from each of the member schools meet to address pressing legal problems facing nations around the globe. This forum provides innovative and meaningful ways for students and faculty of the member schools to interact, and forges an expanding cross-border appreciation of critical issues in the law.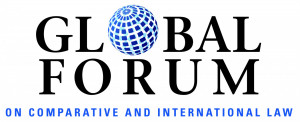 A Transnational Teaching Consortium
The Global Forum, founded by four elite Law Schools from around the world, fosters the creation of a vibrant intellectual community and intensive teaching consortium.  Through the Global Forum, students have unparalleled opportunities to examine issues in international and comparative law with world-renowned faculty and students from around the globe.
As part of the Global Forum, students meet with the people and organizations at the center of the issues they are studying – for example talking with transplant surgeons for a Forum session on the global trade and donation of organs, or the European Central Bank for the Frankfurt-based session on financial regulation reform.
The Global Forum member schools and their hosting dates:
Penn Law established the Global Forum in 2010 and hosted the first session as part of its commitment to building deep relationships with overseas law schools that benefit both faculty and students. The sessions will rotate among the member schools.