Salzburg Global Seminar
The University of Pennsylvania Carey Law School engages with the Salzburg Global Seminar both by sending delegations of students to the Cutler Fellows program, as well as inviting distinguished alumni and faculty to represent the Law School at sessions throughout the year.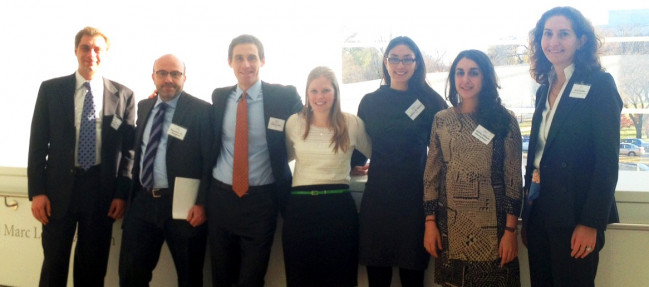 The Salzburg Global Seminar forms partnerships with leading institutions around the world with a mission to challenge present and future leaders to solve issues of global concern. This independent, non-governmental organization convenes imaginative thinkers from different cultures, organizes problem-focused initiatives, supports leadership development, and engages opinion-makers through active communication networks.
Salzburg Global Seminar (Salzburg, Austria)
The Law School has a long-standing relationship with the Salzburg Global Seminar. Below is a sample of sessions that have been attended by our faculty and alumni Penn Fellows.  
 
Title
Salzburg Seminar
Associate Dean for International Affairs

Strengthening Communities: LGBT Rights and Social Cohesion 

June 14-19, 2015

Professor of Law

Strengthening Communities: LGBT Rights and Social Cohesion

June 14-19, 2015 

Stephen A. Cozen Professor of Law & Professor of Political Science; Director, Center for East Asian Studies

China in the 21st Century: What Kind of World Power?

December 4-9, 2012

(Penn Fellow)

Associate, FDA/Healthcare Group, Arnold & Porter (Washington, DC)

Realizing the Right to Health: Towards a Rights-based Approach

November 9-14, 2012

(Penn Fellow)

Head of the Financial Regulatory Reform Working Group for Weil, Gotshal & Manges LLP; Partner in the firm's Corporate Department

The Rule of Law in a Globalized World: Why it Matters

August 23-28, 2011

Associate Dean for International Programs

The Rule of Law in a Globalized World: Why it Matters

August 23-28, 2011

(Penn Fellow)

Associate Professor of Law, Washburn University

Asia's Emerging Powers: Rivalry and Global Responsibility

December 8-13, 2009

Arlin M. Adams Professor of Constitutional Law and Professor of History

Smart Change: Investing in Women and Girls - Leveraging Philanthropy for Global Impact

October 18-23, 2009

(Penn Fellow)

Former Sharswood Fellow in Law and Philosophy; Current Visiting Assistant Professor at Villanova University School of Law

Confronting Protectionism: How Business and Governments Can Build Support for Open Markets

September 29- October 4, 2009

Deputy Dean and Professor of Law

The United States in the World: New Strategies of Engagement

November 10-15, 2008

Deputy Dean and Professor of Law

Islamic and International Law: Searching for Common Ground

October 25-30, 2008

(Penn Fellow)

Senior Staff Attorney with ACLU Human Rights Program

An International Rule of Law: Balancing Security, Democracy, and Human Rights in an Age of Terrorism

September 1-6, 2007