The Institute for Law and Global Development
September 21, 2018
Agenda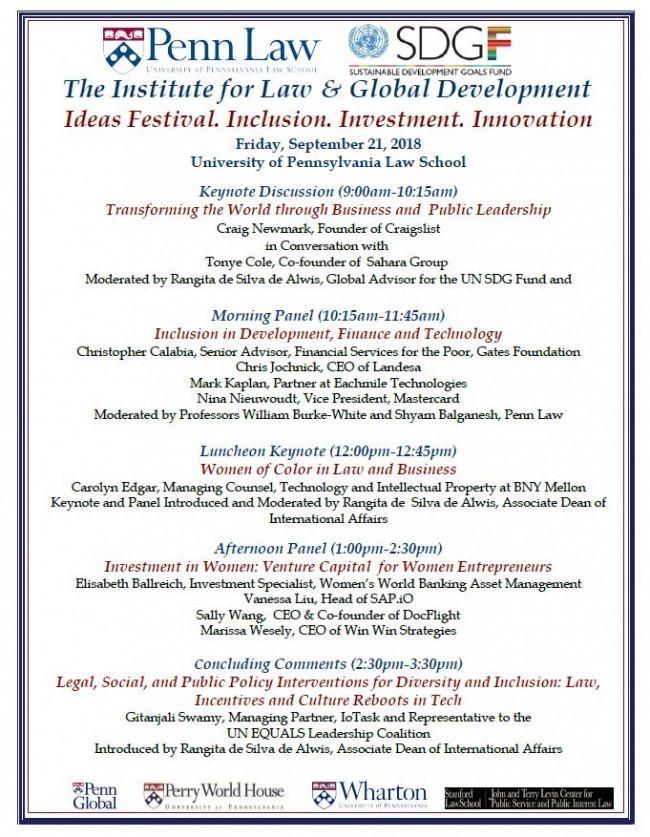 On September 21, in partnership with the UN SDG Fund, some of the world's leading entrepreneurs and thought leaders in technology, business and development will convene at Penn Law for a seminal Institute for Law & Global Development: Inclusion. Investment. Innovation. 
Recently, one of our keynote speakers, Craig Newmark, founder of Craigslist, issued a call to action. He asked men and women to join him to end the gender gap in technology: "As a result of this inequality, today's technology - and increasingly today's world - does not reflect the diversity of women's experiences, imagination, or ingenuity."
Craig Newmark of Craigslist, Carolyn Edgar of BNY Mellon, and Nigerian business leader Tonye Cole of the Sahara Group, will join other innovators in tech, business, venture capital, development, and social impact investment from the World Bank, Gates Foundation, VC Funds, and the private sector to advance gender equality as a macroeconomic issue, and a moral issue.  The purpose of the Institute is to ask hard questions on issues of inclusion and diversity in development, innovation, and entrepreneurship.  
Please follow this link to register.
Featured Keynote Speakers
Speakers
Readings