World Bank's Gender and Identification for Development Initiative
(January 14–May 1, 2019)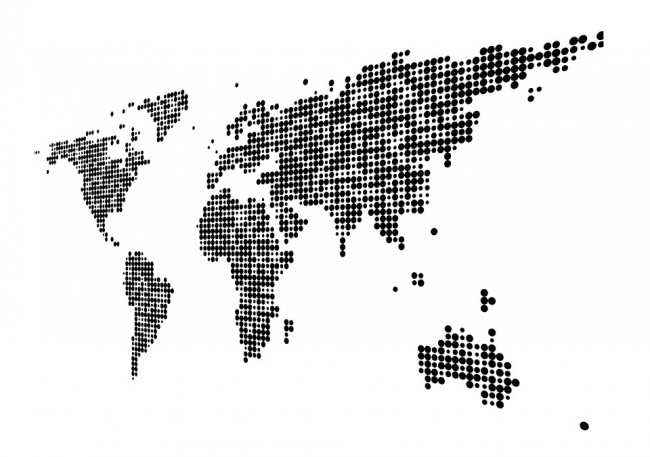 The World Bank Group's Identification for Development (ID4D) initiative, in conjunction with the Gates Foundation, estimates that globally one billion people are unable to prove their identity.  The majority of the one billion live in low-income countries (LICs), particularly in sub-Saharan Africa and Asia. Women and the poor are less likely to have an ID than other population groups. The ID4D-Findex survey found that 45% of women in LICs do not have an ID (vs. 30% of men), and 45% of the poorest 20% of the population (vs. 28% of the richest 20%) lack proof of identity[1]. 
There is little evidence about what causes the gender gap in possession of officially recognized IDs, however, and how it might vary within countries between, for example, the rich and the poor and different ethnic groups.  It is important to address the gender gap because women's lack of access to IDs will constrain progress that can be made in other areas that are critical to poverty reduction – but that require proof of identity — such as financial inclusion, ownership of mobile phones, health services, social protection, and other development goals that are critical for the empowerment of women and girls.
Gender-based barriers that limit at the national level women's access to IDs in comparison to men's access to IDs lie in households, informal institutions (social norms), markets (direct and indirect costs), and formal institutions (legal barriers). Gender differentials in laws circumscribe a woman's right to travel outside the home, get a job or pursue a trade or profession without permission from a husband or male guardian, sign a contract, register a business; be the head of household or head of family; be able to confer citizenship to her children; decide where her child will attend school; open a bank account; choose where to live;  have ownership over property; inherit property; act against the wishes of their husband; convey citizenship  to a non-national husband; administer marital property; exercise basic guardianship  and customary rights over children and more. These laws, regulations, and policies restrict the full capacity of women and constrain a woman's economic choices, including her ability to engage in entrepreneurial and employment activities.  
As part of the deep dive into gender-based differences in official forms of identification and how this may impact financial inclusion, access to education and other (e.g. social safety nets),  a select group of law students at the University of Pennsylvania, under the supervision of Associate Dean Rangita de Silva de Alwis, will analyze laws in Nigeria and Tonga, including, but not limited to: gender-based legal barriers to birth registration; gender-based legal barriers to obtaining an ID card; gender-based legal barriers to obtaining a passport; and nationality laws in Nigeria and Tonga. Penn Law students will conduct this research as a one-credit independent study for a semester.  Students will undertake legal research as needed, and, when appropriate, attend meetings, either in person or via video conference with ID4D, Legal and Gender teams. The students will produce research memos at defined milestones.  A final report of their work will be submitted to the World Bank in May 2019.
Final Report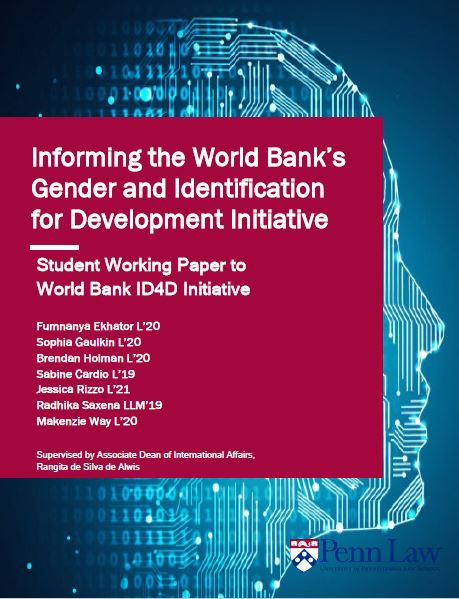 Research Methodology  
Examining the international and regional law frameworks as critical analytical tools, including but not limited to: the state parties' obligations under human rights conventions (ICCPR, ICESCR, CEDAW, CRC, SDGs, SCR 1325 and the Maputo Protocol)
Analyzing state party reports to the human rights treaty bodies, including the CEDAW/ UPR and other obligations
Gathering and analyzing gender-based legal restrictions on financial inclusion, access to education, health care, employment (unequal retirement age, pensions, social security etc.), land and property rights, by identifying gender-based legal differences in the legal system which directly or indirectly impact policies that affect women's economic opportunities.
Mapping gender legal differences in formal and customary laws: husband's permission to freedom of movement; apply for a passport; head of household; choice of residence; confer citizenship to children; husband's permission for a job; travel outside the home; register a business; open a bank account; sign a contract; woman has to prove her identity to enter an employment contract or access finance. Proof of identity is necessary to borrow from banks. 
Analyzing asymmetries in laws and policies against the baseline of constitutional guarantees and international treaty obligations.
Benchmarking the legal and regulatory environment for women in business and innovation
Identifying and analyzing cases that address gender discrimination in the laws.
Collecting (if available) quantitative and qualitative data through field research done over Skype from the law school.
Examining comparative legal systems and highlighting transnational jurisprudence from these legal systems, including reformist efforts in countries that are being studied by the Bank, including best practices from the region and sub-region.     
[1] http://pubdocs.worldbank.org/en/953621531854471275/ID4D-FINDEX-Note-Release2018.pdf
Student Research Teams
 
Focal Point
Researchers
Nigeria
Fumnanya Ekhator L'20

Sabine Cardio L'19

Jessica Rizzo L'21

Tonga
Sophia Gaulkin L'20
Makenzie Way L'20
Comparative
Brendan Holman L'20
Radhika Saxena LLM'19