Grade Sheets
Use the Grade Sheets to download anonymous or standard grade sheets to submit exam grades to the Registrar's Office.
How to Access Grade Sheets
A link to the Grade Sheets tool is available in the left sidebar of your Canvas site navigation. Click the link to access your grade sheets.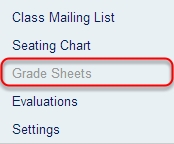 Alternatively, you can access this tool through the left sidebar of myCourses. There you will see all of your current courses and have the option to select one and then download the grade sheets.
Using Grade Sheets
Depending on the format of your exam, you may download an anonymous grade sheet (by exam ticket number) or a standard grade sheet (by student name) for each course you are teaching. Grade sheets are in MS Excel format.
Within the Grade Sheets tool, you will see links to both an anonymous and standard grade sheet. Click on the grade sheet you would like to download and save the file to your computer or network drive.
Enter your grades in the space provided. Once you have entered in all of the grades, please save and email your file as an attachment to the Registrar, Claire Wallace, at cwallac2@law.upenn.edu. 

NOTE: please do not change the file name. The Registrar will return your grade sheet with student names and exam numbers for your records.

Once your grades have been turned in to the Registrar's office, you will be able to view your evaluation results in Canvas. To view the results, click the Blue Evaluation Reports tab on the left sidebar of your Canvas site and select the type of evaluation and the term for the evaluation you'd like to view. For more information about viewing Blue Course Evaluations from Canvas, see our documentation.