Panopto: Scheduling and Cancelling Recordings
Overview
The following document covers scheduling and un-scheduling recordings for in-person classes.
For More information on course Zoom recordings, see here:
During remote/hybrid semesters, all classes are recorded automatically and made available to your students. During the Add/Drop period, all Penn Law Students can access course recordings for all classes.

Each Friday you will receive an email confirmation of the upcoming week's scheduled classroom technology. If you wish to opt out of the confirmations, please email us.

All other requests should be made before the day of your class. For same day requests, please call the ITS Media hotline at (215) 898-9570 or email itsmedia@law.upenn.edu.

Private Recordings are available, by default, to only Instructors and TAs in the course. To edit permissions for individual recordings to send to students, follow instructions here: https://www.law.upenn.edu/its/docs/canvas/panopto-manage-recordings.php
Contents:
Navigate to Canvas Media Requests
In Canvas, navigate to your course page and select the Media Requests link.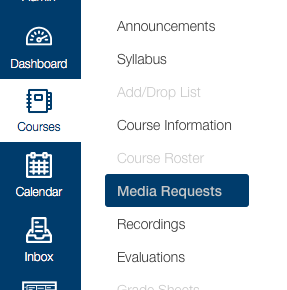 Note: "Media Requests" link is greyed-out because students do not see this link
Placement of the "Media Requests" and "Panopto Recordings" links on your Canvas page may appear lower or higher on the navigation list. To adjust the relative location of links, click the "Settings" link, and then "Navigation."
Adding Recording Requests to all course meetings
From the Media Requests link in your Canvas course, you can use the Shortcut option to to add or remove a technology request (including recording) in all meetings.
NOTE: You can add "Recording" or "Recording-Private" to all classes. If you wish to make your recording audio-only, please select that option for each individual class session.

Adding Recording Requests to individual course meetings 
To customize individual sessions, scroll down and use the check boxes next to each class. Be sure to click Save Changes after submitting your Media Requests.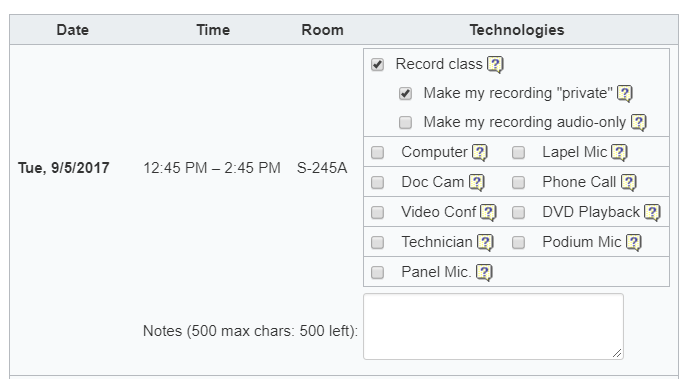 Un-Scheduling Recordings
*IMPORTANT: Please note that if you teach a hybrid class, your class is recorded by BOTH the in-room camera/mic system AND Zoom. You will have 2 recordings of your class for each class session.
*To opt-out of each type of recording, follow steps below for Zoom and Panopto recordings.
ZOOM-OPTING OUT OF AUTOMATIC RECORDING
Zoom course calls are scheduled to be automatically recorded starting at the beginning of the call (once the Host connects to the call)
To Opt-out of automatic recording, email itsmedia@law.upenn.edu. Approval is required from deputy deans
To change Zoom call recordings to be "Private" be default, email itsmedia@law.upenn.edu
ZOOM-STOPPING OR PAUSING INDIVIDUAL RECORDINGS
Instructors can stop or pause recording for individual Zoom calls by clicking the "Stop" or "Pause" buttons in Zoom
PANOPTO
Explanation of terms:
"Recording" or "Record class"

Choosing "Recording" or "Record Class" initiates a recording that includes the video camera, the PC screen, and synchronized audio. When students access the recordings, they see both the camera recording and the screen recording side-by-side. 
NOTE: if you want just a screen capture (and no video feed), or just a video feed (and no screen capture) please indicate this on the notes field of your media requests page.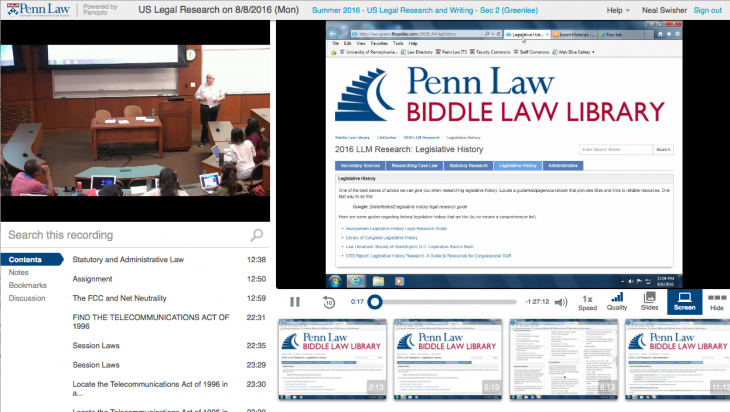 "Audio-only"

Choosing "Make my recording audio-only" indicates that you want the video content removed from your recording. Students accessing audio recordings will see the following:

Private Recordings
Choosing a "Private" option for either Panopto recording or Audio recording means that students will have no access to recordings unless faculty grant them access. Managing Recordings uses a different interface than the previous recording system. See the help document on "Managing Panopto Recordings" for more information on how to grant students access to individual recordings.