Takeaway Exam Instructions/FAQ
Please review these instructions carefully before beginning your exam. If you have a question that is not answered here, please email examhelp@law.upenn.edu.
In This Document:
Takeaway Recommendations:

-Be sure that your computer is up to date and charging before checking out your exam. 
-As you work on your exam, be sure to save your work frequently. 
-Give yourself 5 minutes of padding at the end of the exam in order to upload your answers and troubleshoot any issues with the upload process. 
1.) How do I access my takeaway exams?
Log into https://upenn-takehomeexams.appointlink.com/exam/default.aspx with your Pennkey (or click the Takeaway Exams link in your Canvas course).  There you will see a list of available exams. Click the start link next to an available exam to proceed to the next step.
Note: Clicking (Start) will not automatically start the countdown clock on your exam. You will have the opportunity to read through exam information on the next page before starting your exam.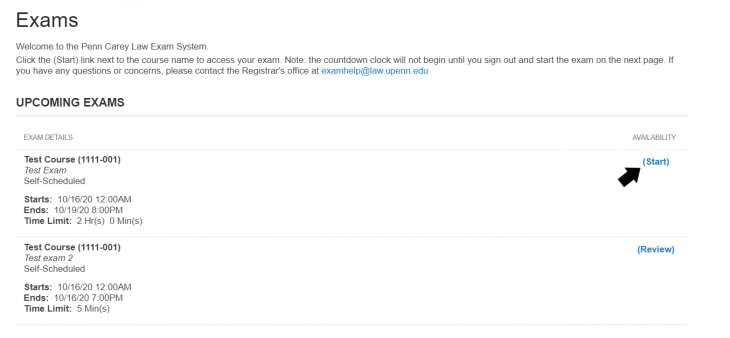 2.) How do I start my exam?
First, make certain that the exam is available and that you can complete the exam in the time allotted to you. Starting your exam is not undoable! If the exam is available to start, the "Start" button will be visible. Clicking it will take you to a details page and allow you to read exam information and instructions before starting your exam. Your deadline will be presented to you and any exam duration limit. To start your exam select the check box agreeing to Penn Law's Code of Student Conduct and Responsibility and click the "Start Exam" button .
Before Starting your exam: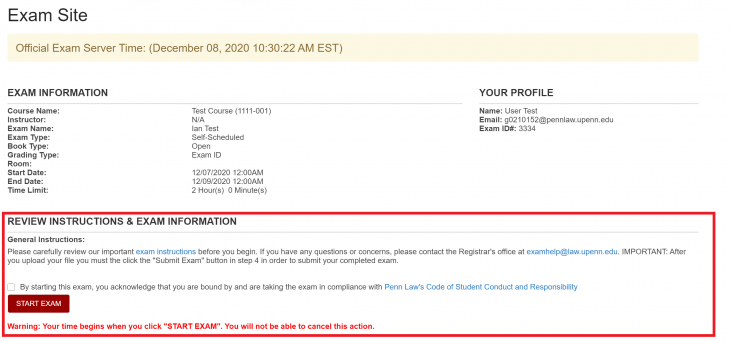 After Starting your exam: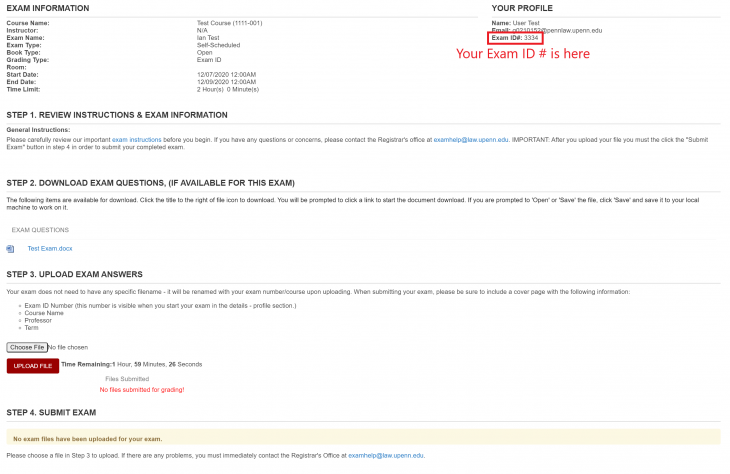 3.) How do I submit a takeaway exam?
Important: Please read and follow the instructions below carefully.
Please submit your exam in MS Word, PDF, Rich Text, or Plain Text format.
Your exam does not need to have any specific filename - it will be renamed with your exam number upon uploading.
When submitting your exam, please be sure to include a cover page with the following information:

Exam ID  Number (this number is visible when you start your exam in the details - profile section.)
Course Name
Professor
Term

If you have any questions or concerns, please contact the Registrar's office at examhelp@law.upenn.edu
Follow the instructions below to submit your exam: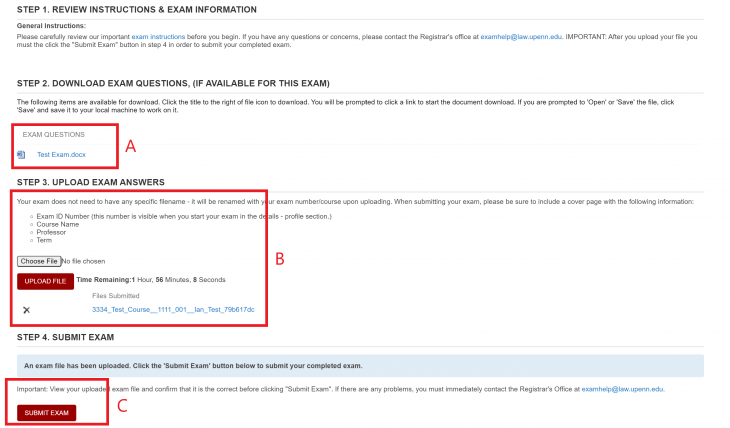 Download the exam File by clicking the document link.
Using the Browse or Choose File button, select your completed exam file. After selecting your file, press the "Upload" button. You should see your file appended with your exam ID. Note: There is a timer under step 3, indicating how much time you have left to complete your exam.
Click the "Submit Exam" button to submit your exam. Note: Once you have submitted your exam it will mark as completed and you will no longer be able to upload files.
Once you have submitted your exam step 4 will contain a confirmation message.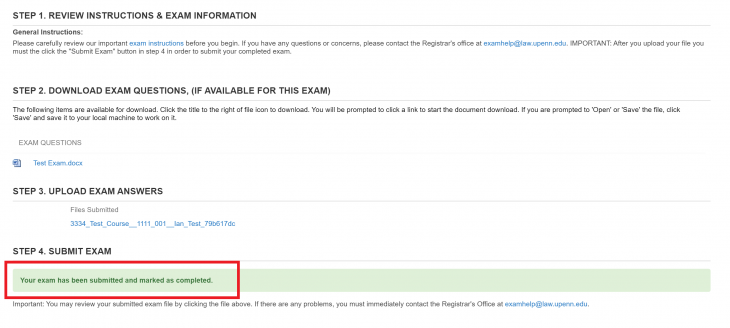 IMPORTANT: Be sure to view your submitted exam file and confirm that it is the correct and complete exam. If there are any problems, you must immediately contact the Registrar's Office at examhelp@law.upenn.edu.
4.) My deadline has passed! What do I do now?
The Takeaway Exam system will allow you to submit your response if the deadline for your exam has passed (as long as the exam end date has not passed), however it will be marked as late. if you are submitting a late exam, please contact the Registrar's office immediately with your explanation. If you are having issues submitting your exam, email examhelp@law.upenn.edu.
5.) Help! I am unable to submit my exam!
If you are unable to upload your exam, please contact the Registrar's office at examhelp@law.upenn.edu