PennFlex Phone Migration
PennFlex is a new phone system being rolled out that allows the use of Penn phone numbers from your computer or smart phone. All PennNet phones will be migrated to the new system eventually, but you can take advantage of the new features by opting to migrate ahead of time or by requesting early access.
What is PennFlex?
PennFlex Phone is the University's cloud-based telephony service supporting business operations for the campus. In addition to enterprise quality phone features, PennFlex Phone offers enhanced unified communications functionality including a mobile and desktop app with messaging and audio/video conferencing. During FY21 and FY22, PennFlex Phone will gradually replace PennNet Phone as the University's primary phone service. For more information, please review this page: https://www.isc.upenn.edu/pennflex-phone
What is the difference between PennFlex and PennNet phones?
The primary difference is that the new PennFlex system is cloud-based and includes desktop and mobile applications (Vonage MobileConnect) that allow you to use your Penn phone number from any computer or smart phone. This means you can make and receive calls from your Penn phone line from the comfort of your home or on the go without using your personal phone numbers.
Why should I consider an early migration to PennFlex?
If you have business needs that require calling out from PennNet phone numbers, receiving calls to PennNet phone numbers, or adapting your existing phone solution to be work from home friendly, then it is worth considering moving your lines to PennFlex as an early adopter.
How can I move my line to PennFlex?
To get started on PennFlex, first send us an email to ITSHelp@law.upenn.edu requesting a consultation. We can discuss your individual needs and present a PennFlex demo at that time.
There are two ways to migrate:
Early Access: This is a "quick start" way to get up and running on PennFlex in just a few days. You will be provisioned a temporary number that acts as an intermediary between your PennNet and PennFlex. Your outgoing caller ID will still be your Penn number but you will need to sign into your PennNet phone settings to forward your calls to the temporary line in order to receive calls on the MobileConnect applications. This method is recommended if you need a quick turnaround time, have simple calling requirements, and a small number of lines that you need access to.
Full Migration: This method requires 60-day advanced notice and will be permanently implemented once at the end of the sixty-day timeframe. This method is recommended if you have complex calling requirements (ie ring groups, shared lines, etc.) and are interested in migrating many lines, for instance, a whole department.
When you reach out about PennFlex, we will assist you in determining which method is appropriate for your needs and can discuss the pros and cons of each option.
Can I keep the handset I have at the office?
Eventually, all handsets will need to be replaced as part of the migration process, whether you migrate early or not. We recommend using the software only, instead of having a handset on your desk. If you still need a handset, a new handset can be provided during the migration that will include most of your settings from the original handset. Please review this page for a list of all of the settings that will migrate. We can advise on a plan for the settings that won't migrate during your initial consultation.
What does the MobileConnect app look like?
Here is an image of the MobileConnect app that is used to make and receive calls with PennFlex: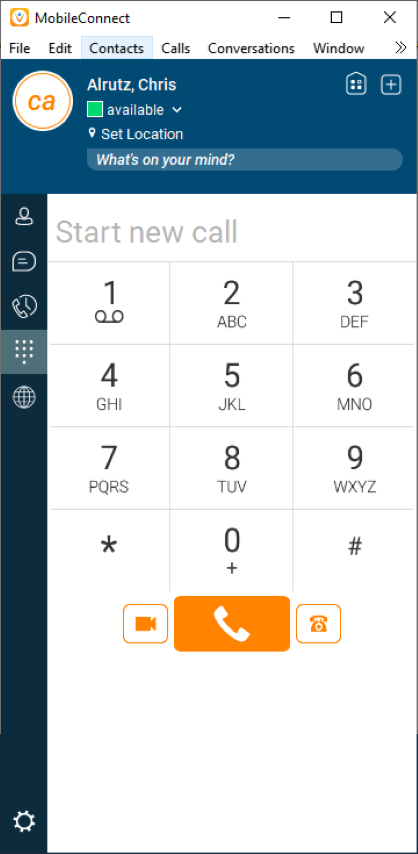 Here is an example of the notification you get when receiving a call: