Faculty & Staff: Transitioning to the New Print Service
We will be transitioning to a new faculty and staff print service during Fall 2020. All faculty and staff who use the network printers will need to transition using the instructions below. The existing network printing service will be retired on November 21, 2020. 
ITS is available to assist with this transition:
Email: itshelp@law.upenn.edu
Faculty: 215.898.2589
Staff: 215.898.9140
Step 1: Reset your PennKey
Our new print server is hosted on a Penn server which requires that we reset/resync all PennKey passwords. You only need to do this one time (and you can reset your password to be your existing password - assuming it meets the latest password rules).

To reset, go to https://weblogin.pennkey.upenn.edu/changeexpiredpassword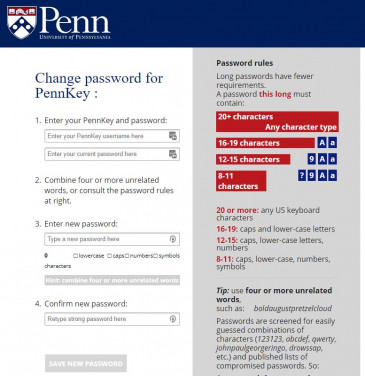 Step 2: Add the new print queue(s) to your computer.
Note: the instructions below are for Windows machines. (View Mac OS Instructions). 
IMPORTANT!!: If you are remote (not at the Law School), you need to be connected to Penn's GlobalProtect VPN before proceeding with step 2. 
You may have more than one printer configured on your computer. If you go to Printers (type Printers in search box in lower right corner), you can see the printers that you currently have configured using the old print service and can configure these with the new print service. 
To add the new print queues:
Hold the Windows key and press the R key to bring up the Run dialogue box.
Enter in \\printers-law.kite.upenn.edu into the Run Window and hit Enter


A window will appear prompting you to sign in with your account. Select "More Choices" and "Use a different account"
Login with the following:
Username: KITE\PennKey (fill in your PennKey username)
Password: Your PennKey password
IMPORTANT: Check the box for "Remember my Credentials"
Click OK.

This will bring up a window that will display the various Network printers. Double click on the printer that you would like to add to your device.

The printer installation will run. When complete, the printer should appear under Printers (type Printers in search box in lower right corner) as "printername on printers-law.kite.upenn.edu". For example, if I add the fss-127 printer, the printer will appear as "fss-127 on printers-law.kite.upenn.edu".
Step 3: Remove the old print queues once you have setup and tested the new queues.
Once you have configured the new print queues, you can go to Printers (type Printers in search box in lower right corner) and delete the old print queues. To delete them, click on the Print queue and select Remove. 
Note: the old print queues will say printers.law.upenn.edu. The new print queues say printers-law.kite.upenn.edu.