Student Printers: Overview
Printing for the Spring 2021 Term

Given that students will have unpredictable and possibly restricted access to the Law School's printers, there will be no PennCard print credits this spring. Instead, all JD and LLM students will receive a $120 credit to the learning support fee on their tuition bills to offset their personal printing expenses. ML students will receive $40 credit. Students may choose to add money (PennCash) on their PennCards to use on the Law School's printers, but we are not able to guarantee consistent printer access. (To add money to your PennCard, please visit https://penncard.business-services.upenn.edu/manage-account).

Course Packs
The Law School will provide free course packs by request for any class for which the professor has elected to create them. Course packs will be mailed to students or available for pickup at designated times.

Student Group/Journal Printing
Because student groups and journals will not have access to the Special Printing account this semester, we have contracted with Campus Copy to allow authorized groups to use their on-site printing at no cost to them.

We will share more details as to how to request course packs and use Campus Copy services closer to the start of the semester.
Using the Multi-function Stations
Once you have setup the printers for your laptop (view our Windows and Mac setup guides) and sent your documents to the printer, you will then need to go to one of the multi-function stations located through out the Law School to release your print job. (View a list of the printer locations)
Releasing a Print job 
New NFC card reader print stations have replaced our old card swipe/Omega release stations. You need to wave or tap your card on the reader before you can print, copy, or scan on these printers.
Before you wave your card next to the NFC reader, you'll see this screen: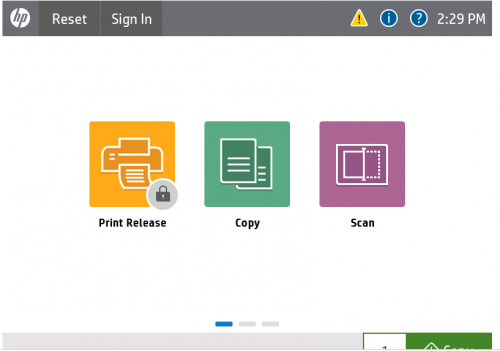 Wave your card next to the NFC reader. The card reader will beep and show a green light when it's successfully read your card. Then you'll see this screen: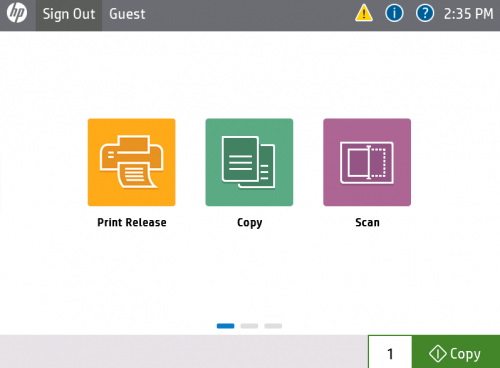 To release a print job, select Print Release. You'll see the available jobs to release: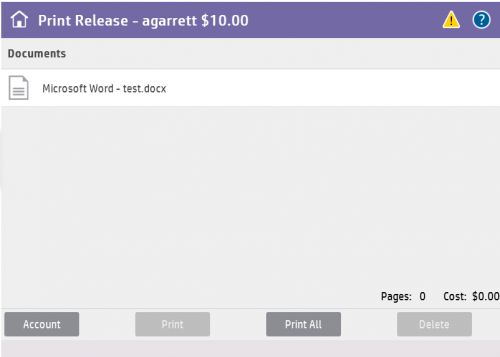 Select the job and choose Print: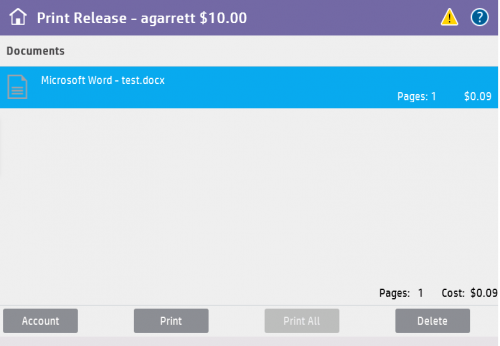 To copy, wave your card next to the NFC reader to login and choose the Copy icon. Then choose Copy in the bottom right corner of the screen: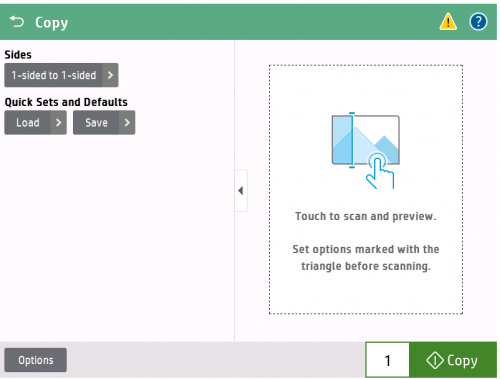 To scan, wave your card next to the NFC reader to login and choose the Scan icon. Type your your email into the To text box and choose Send in the bottom right corner of the screen: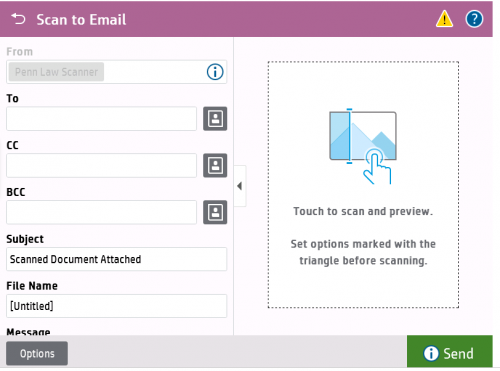 Please also note the following:
A page is one print side.
By default all documents are set to print duplex. You can change this from the Print menu on your computer.
Printing prices: Duplex prints are charged a fee of $0.08/page (16 cents total for both sides of a sheet). Simplex prints are .09/page.
To use the scanning or copying functions, visit our Scanning & Copying guide.
Color printing is also available!