Journal of Law and Social Change
The University of Pennsylvania Journal of Law & Social Change (JLASC) serves as the hub of the progressive academic community at the University of Pennsylvania Carey Law School.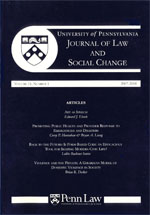 We are a student-run journal committed to interdisciplinary scholarship addressing social, racial, and economic justice. Our mission is two-fold: we seek to foster critical inquiry of institutions and practices that create and reinforce injustice, and we seek to explore both legal and extralegal paths to a more bearable society. This broad mission attracts articles from a diverse range of scholars, practitioners, activists, and students from around the world. We embrace a blend of theory and practice, featuring work that has practical implications both within and beyond the legal community.
JLASC is unique among Law School journals both in our subject-matter interests and our democratic, seminar-based article selection process, in which all journal members may participate. This coming year, JLASC will publish its twenty-fifth volume.