Three faculty members to retire from the Law School in 2020
August 24, 2020
Three distinguished faculty members will retire from the University of Pennsylvania Carey Law School at the end of the 2020 academic year: Nicholas F. Gallicchio Professor of Law William Wilson Bratton; Earle Hepburn Professor of Law Emeritus Howard F. Chang; and William B. and Mary Barb Johnson Professor of Law and Economics Michael L. Wachter.
All three professors have made incredibly valuable contributions to both the legal academy and the Law School community – from their teaching excellence and pathbreaking scholarship to their and mentorship and dedicated guidance of students.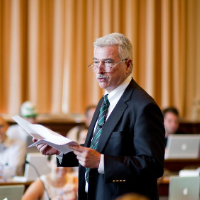 William Wilson Bratton, Nicholas F. Gallicchio Professor of Law and Co-Director, Institute for Law and Economics
Professor Bratton is recognized internationally as a leading writer on business law. He brings an interdisciplinary perspective to a wide range of subject matters that encompass corporate governance, corporate finance, accounting, corporate legal history, and comparative corporate law. His work has appeared in some of the country's most prestigious law reviews, including those of the University of Pennsylvania; University of California, Berkeley; Cornell; Michigan; Northwestern; Stanford; Texas; and Virginia.
"I spent 40 years as a standing faculty member at a number of law schools," said Bratton. "It was privilege to serve on the Penn Law faculty during my last decade of service. My interactions while on the Penn faculty lead to some of my best work. Penn Law students were far and away the best of my experience. They are motivated and supremely capable and respond well when an instructor demonstrates commitment to the material."
Bratton will continue to teach spring terms as the de law Cruz/Mentschikoff Chair in Law and Economics at the University of Miami School of Law.
"Once travel loosens up again," said Bratton, "I will be dividing my time between Miami and my homes in Washington, D.C. and Mérida, Mexico."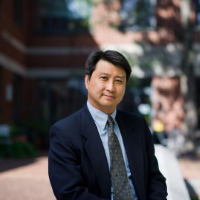 Howard F. Chang, Earle Hepburn Professor of Law Emeritus
Professor Chang is an expert on immigration law, international trade, and environmental law. He has taught courses in each of these areas during his 21 years at the Law School. His scholarship has been published by prestigious journals including the University of Pennsylvania Law Review, Yale Law Journal, and the American Economic Review.
"It has been a great privilege to teach and to serve on the faculty at Penn Law for the past 21 years," said Chang. "I have been fortunate to have such bright, enthusiastic, passionate, and engaged students in my classes. Although I am now retiring from teaching, I will remain active as a scholar and as a member of the Penn Law community, attending workshops, conferences, and other law school events. I expect my retirement to allow me to devote more time and energy to reading academic papers and participating in workshops and conferences, and I look forward to seeing Penn law students and faculty colleagues in person again in the near future."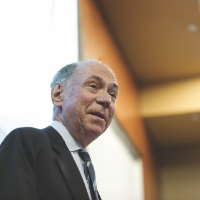 Michael L. Wachter, William B. and Mary Barb Johnson Professor of Law and Economics and Co-Director, Institute for Law & Economics
Professor Wachter is a prominent cross-disciplinary scholar in the fields of law and economics. He joined the Penn faculty in 1970 and has since held full professorships in three of Penn's schools: Arts and Sciences, Professor of Economics since 1976; the Wharton School, Professor of Management, 1980-92; and the Law School, where he became Professor of Law and Economics in 1984. Wachter served as Deputy Provost of the University of Pennsylvania from July 1995 to January 1998 and as Interim Provost from January to December 1998.
"My memories of Penn Law will always be infused by gratitude for the opportunity to engage with wonderful students and colleagues," said Wachter. "My teaching career at Penn can be divided into two wonderful experiences. First, I was a tenured member of the Economics Department through 1997 teaching economic theory, labor economics, and law and economics. My teaching in the Law School consisted of corporate law, a seminar in advanced topics in corpore law, co-taught with then Chief Justice Leo Strine of the Delaware Chancery and then Supreme Court of Delaware and corporate finance. My seminar with the Chief Justice ran from 2001 until my retirement in June 2020."
Wachter plans to focus on corporate interests in companies in his retirement.
"My interest in corporate law and finance has become an engaging hobby," he said. "Most of my research was on issues in corporate law and their business strategies in the context of Delaware corporate law. I continue to follow the emerging case law on new topics in corporate law and the ongoing market in corporate transactions. This has become such an interesting time in emerging technologies and business structure that will require new rules and new case law to evaluate these transactions and I look forward to following that as well."
Wachter noted that having started the Institute for Law and Economics (ILE) in its current form in 1984, he looks forward "to following the wonderful current programs it is doing and the programs that will be developed in the future.