Georgetown names Rangita de Silva de Alwis as Hillary Rodham Clinton Fellow
February 23, 2021
"I've been familiar with Rangita's impressive work for many years," said Secretary Hillary Rodham Clinton, GIWPS Honorary Founding Chair. "Moreover, her commitment to advancing women's rights has been recognized globally. I'm delighted that she will bring her considerable talents to Georgetown's Institute for Women, Peace and Security as an HRC Fellow."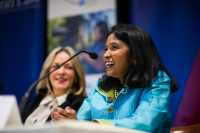 Rangita de Silva de Alwis, Senior Adjunct Professor of Global Leadership at the University of Pennsylvania Carey Law School and nonresident leader in practice at Harvard's Women and Public Policy Program (WAPPP), will be affiliated with the Georgetown Institute for Women, Peace and Security (GIWPS) as a Hillary Rodham Clinton Fellow on Gender Equity 2021-2022.
Professor de Silva de Alwis served as the Associate Dean of International Affairs the Law School and teaches women's rights and a policy lab on AI and bias, among other courses. In 2017, she spearheaded the Global Women's Leadership Project as well as the Women, Law & Leadership Lab, under the auspices of UN Women's Executive Director Phumzile Mlambo-Ngcuka to map the laws that regulate the status of women in the family.
"I'm very pleased and proud that Rangita de Silva de Alwis has been appointed to this prestigious fellowship that bears Hillary Rodham Clinton's name and builds on her vision," said the Law School's Dean Ted Ruger. "Professor de Silva de Alwis is an impactful global leader on human rights and equity, and through her dynamic teaching inspires our students here to work on those issues, and this new post recognizes her stature and impact in the field."
de Silva de Alwis' honorary appointments have included: Distinguished Advisor to Under Secretary General of the UN Phumzile Mlambo Ngcuka; Leader-in-Residence at the Harvard Kennedy School's Women and Public Policy Program (2019-2021); Senior Fellow at Harvard Law School's Center on the Legal Profession and member of the World Bank High Level Task Force on Technology for Access to Justice. She previously served as the inaugural director of the Women in Public Service Project at the Woodrow Wilson International Center for Scholars and inaugural director of the Women in Public Service Institute founded by Secretary Clinton at Wellesley College.
"Rangita's tireless advocacy in support of the human rights of marginalized women has inspired a generation of Penn Law students," added Eric Feldman, the Law School's Heimbold Chair in International Law, Professor of Law; Professor of Medical Ethics & Health Policy; and Deputy Dean for International Programs. 
Rangita has published extensively on international women's rights, including providing guidance on law reform and gender policies to governments and international organizations.
"Rangita is a proven leader in the field of human rights," said Ambassador Melanne Verveer, GIWPS executive director. "As we have just marked the 25th anniversary of the UN Fourth World Conference on Women and its emphasis on women's rights as human rights, it is especially fitting that we will have Rangita with us to engage with us on this topic even more significantly."
Related: 
Read the recent blog post co-authored by Melanne Verveer & Rangita de Silva de Alwis: Why Ratifying the Convention on the Elimination of Discrimination against Women (CEDAW) is Good for America's Domestic Policy