Highlighted Archives Collection: The William E. Mikell Files
February 26, 2014
Written by William Chim, Archives and Special Collections Assistant
William Ephraim Mikell (1868-1944) was an American lawyer, legal scholar, and professor.
Mikell received his Bachelor of Science from The Citadel, better known as the South Carolina Military College from 1886-1890 and attended the University of Virginia Law School in 1894. He practiced law in both North and South Carolina before coming to Philadelphia in 1896 to work under George Wharton Pepper and William Draper Lewis on the Pepper and Lewis Digest of Pennsylvania Decisions. Later that year, when William Draper Lewis became Dean of the University of Pennsylvania Law School, Mikell was appointed as an instructor on Lewis's recommendation. By 1902, Mikell was a full Professor. He served as Dean of the Law School from 1914 to 1929. In 1938, Mikell was made Professor Emeritus at Penn Law. 
Edwin Keedy, colleague of Mikell and fellow former Dean of Penn Law, described Mikell in his 1944 obituary as "an inspiring and effective teacher" as well as "a leader in the movement to simplify and humanize criminal law and procedure." 92 University of Pennsylvania Law Review 229, 230 (1944).
This work in criminal law is what Mikell is best remembered for. In 1915 he published a draft of a statute providing for simpler forms of indictment. As well, his critical study of the Penal Code of Pennsylvania prompted the creation of a Commission to revise the Code. Mikell was the Secretary and Draftman of the Commission, which completed its work in 1922. He later worked as the Senior Reporter for the draft of a Code of Criminal Procedure by the American Law Institute in 1924.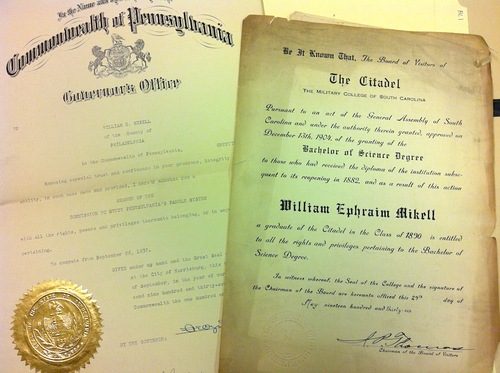 This collection of papers from lawyer and legal scholar William E. Mikell focuses on his involvement with and study of criminal law. The majority of the collection contains texts that Mikell himself wrote or was involved with creating, including drafts of criminal codes and revisions of existing laws, as well as Mikell's handwritten personal notes, writings, and research on these topics. A small collection of personal memorabilia, photographs, and correspondence are also included.
The collection is now open to the research community. The finding aid can be found here. If you are interested in learning more about this collection, please email or stop by the Archives!