New Collection in the Archives! The Geraldine Mund Papers
August 07, 2014
Written by Special Collections & Archives Intern, Bill Robinson
The National Bankruptcy Archives recently acquired and processed the Geraldine Mund papers (NBA.051). Mund serves as a judge on the United States Bankruptcy Court, Central District of California. First appointed on February 9, 1984, she has served three terms, and was chief judge from 1997-2002. She retired on February 9, 2011 and has since served on recall status for the court. Mund received a B.A. from Brandeis University and a J.D. from Loyola Marymount University, and was admitted to the bar in 1977.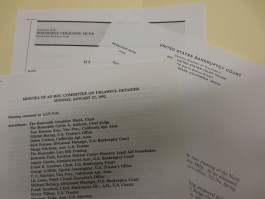 Consisting of memos, letters, reports, and other documents, the Mund papers reveal the challenges faced by the Bankruptcy Court of the Central District of California and how bankruptcy judges sought support for legislation. The collection has been organized into series to reflect three areas of activity:
• In the 1990s, Mund chaired an ad hoc committee of the Ninth Circuit Court of Appeals, formed to study problems surrounding unlawful detainer, automatic stay, and bankruptcy mills.
• Leading up to the passage of the Bankruptcy Abuse Prevention and Consumer Protection Act of 2005, Mund and other bankruptcy professionals provided analyses of proposed bankruptcy legislation to legislative staff and members of Congress.
• In 1995, due to increases in bankruptcy filing workload, the Judicial Conference of the United States called on Congress to authorize four more bankruptcy judgeships for the Central District of California. Mund, along with other bankruptcy judges and lawyers, sought support from Congress for legislation that would allow the creation of new judgeships. Other records include documents regarding non-case related travel reports required for federal judges.
The Geraldine Mund papers are a valuable addition to the National Bankruptcy Archives. The collection will interest researchers studying bankruptcy legislation and reform, bankruptcy fraud, and staffing concerns in U.S. Bankruptcy Courts.
View the finding aid for the collection here. For questions, please contact the Archivist at biddlearchives@law.upenn.edu.