Blurring the Boundary Between the Doc World and the Law: A Conversation with Chico Colvard
December 16, 2014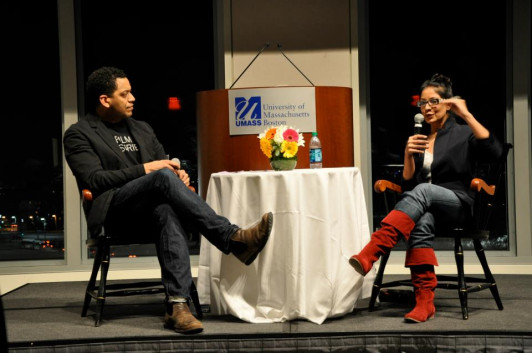 Chico Colvard with Nisha Pahuja of "The World Before Her"By Regina Austin
There are many titles that can be applied to Chico Colvard: documentary filmmaker, documentary film series curator, film festival juror, university lecturer, and, by his own admission, "failed lawyer."  A law degree can be a useful credential for a budding documentarian.  I talked to Chico about the benefits legal training can provide someone operating in what might be called the "Doc World."
Chico Colvard experienced the pull of both filmmaking and the law as an undergraduate at U Mass Boston.  Though he majored in philosophy and political science and was "intrigued by the law and its ability to shape and contain pressing issues," he "took every film-related course available." Given that at the time there were no options for doing both ("no UPenn Docs Law Program or Harvard Law Docs Studio"), he choose to go to Boston College Law School in the belief that he could make the greatest difference in law.  Upon graduation, he became an associate at the major corporate law firm where he had spent his second-year summer.  He also "started work on [his] first feature."  He says that "it was immediately clear to me that as much as I was drawn to the philosophy of law, I am not interested in the daily grind and culture of corporate law."  After 9/11 and the collapse of the dot.com bubble, law firms downsized and Chico was let go.  He "took [his] severance package, traveled for several months to parts unknown, and returned with a resolve to finish [his] first feature …  and pursue [his] true passion for filmmaking."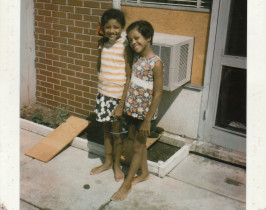 From "Family Affair"
That feature film was the highly praised documentary "Family Affair" which recounts the impact of child abuse on Chico's family.  It premiered at Sundance and was the first documentary acquired by Oprah Winfrey's OWN Network. 
Even though Chico takes pride in asserting that he has never "practiced law," his legal training has certainly not gone to waste because he acquired "a number of transferable skills" that are useful in the Doc World.  Says Chico:
"Film, like the law, can be overwhelming – [there are] lots of moving parts and an army of credits to manage… . [L]aw school teaches you …  how to be systematic and deliberate in your approach to these complex key concepts, histories, tactics, analysis, and end results. I find that kind of discipline quite useful in the way I approach film – it at least helps me to build solid ideas, narrative structures and modes, … which I can later (and often) collapse, finesse or experiment with."
In addition, Chico draws a link between legal ethics and documentary ethics:  "I also find the rules of professional conduct for lawyers [have] carried over into my filmmaking career – not just in the ethics of storytelling, but in my professional ties to the industry, as well. Follow through, keeping your promises and being responsive go a long way. I'm also pretty good at keeping a secret and that's all I'm going to say about that."
Chico's social justice commitments impact his mission as curator of the UMass Boston Film Series which has screened such documentaries as "The World Before Her," "God Loves Uganda," "Southern Comfort," and "Captivated: The Trials of Pamela Smart."  Chico says that in curating he is guided by three values: "serving the public, serving the institution, and serving the profession as a filmmaker and programmer."  The events are "free and open to the public.  No IDs, No tickets."  He aims to promote "learning, inquiry and dialogue for a diverse range of audiences."  Chico maintains that these goals are aligned with the mission of the University which embraces culture, a belief in diversity, and scholarly integrity.  Starting next semester, with the support of the school's chancellor, the UMB Series will expand to different venues in the Boston area and through collaborations and partnerships.
I asked Chico what it was like to serve as a festival juror.  What values come into play there?  Chico likened serving on a festival jury to serving on a jury in a court proceeding.  He has gone into the voting "sure that there would be agreement on the top 3 films" and when proven wrong has had to "reconsider" his assessment given that "his fellow jurors were smart people whose work he respected."  There is some horse trading among jurors, some room for politics, "but with good intentions."  One filmmaker may be "doing fine while another filmmaker needs the attention;" a special jury prize may take that into account.  A film might address "an important issue," but not exhibit "the best cinematic work."   It might nonetheless be "worthy of recognition."  A film may need to be seen for people to be aware of it, but the jurors "do not want to undermine the craft" in giving it an award.   "By and large, juries are pretty civil," according to Chico who declares that he has never walked away feeling that an award went to someone who was undeserving and to a film that had no merit.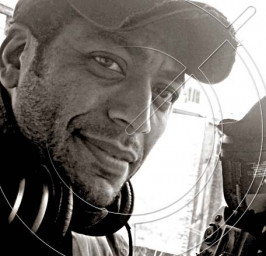 Chico Colvard
I would say that law, philosophy, politics, and ethics are a fundamental aspect of the various roles Chico plays in the Doc World.  For example, his latest film project is "Black Memorabilia" which "examines the subculture around the collectibles and antiques that serve as reminders of America's troubled racial past and present. The film is also a portrait of the people who consume, manufacture and assume the identities of these objects."  "Black Memorabilia" has him thinking about "what stories black documentary makers are allowed to tell." "We have a long way to go," in that regard in Chico's estimation.  Black directors "typically start out with a black topic."  Documentaries "can help to change perceptions."  Take the case of Eric Garner (in which a NYPD officer appeared to use a chokehold in detaining a black man, who later died, for selling loose cigarettes on the sidewalk).  It happened because "there are certain notions about blackness."  "Where do they come from? " There is a relationship between what is happening to black people and "the power of images to shape and contain notions of race and gender."
On the other hand, "what role does art play?"  "Filmmakers who happen to be black are interested in telling original stories in different modes and styles."  According to Chico, "I don't get to point my camera at grazing sheep for four hours." That's why black feature director Steve McQueen's film "Hunger," which is about the 1981 Irish hunger strike is so interesting.  However, Chico sees change on the horizon.  "There are some moves in this direction being made by people who control or disseminate program content."  He points to Tabitha Jackson, Director of the Documentary Film Program at the Sundance Institute and a black woman, who speaks of the audacity of documentaries to be pieces of stand-alone art.