"The Look of Silence": Vicarious Fear, Transitional Justice, and Documentary Practice
June 08, 2015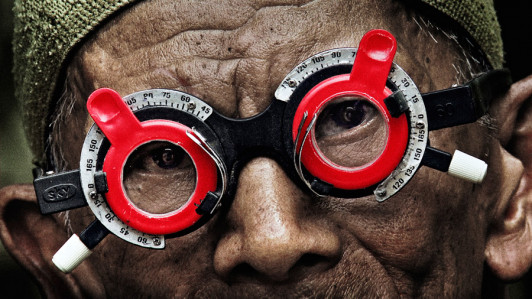 Still from "The Look of Silence"
By Regina Austin
I remember the first time I watched Joshua Oppenheimer's documentary "The Act of Killing." I barely understood what was going on.  I did not realize that I was watching active participants in the 1965 genocidal purge of Indonesian communists exercise their demons by re-enacting their butchery.  I eventually got it after watching the film several more times in different contexts and reading everything about it that I could find. 
There is little doubt that "The Act of Killing" marks a revolutionary move in the visual documentation of transitional justice.  The same can be said of Oppenheimer's new documentary "The Look of Silence."
Transitional justice basically refers to mechanisms like truth commissions and people's courts that facilitate a state's movement from a regime of violent conflict and repression to one of social reconciliation and democracy.  It typically entails public acts involving documentation of mass human rights abuses and the context in which they occurred, memorialization of the victimized, and assessments of responsibility or acknowledgements of guilt by the perpetrators, all of which are aimed at restoring peace, trust, and a workable system of justice.  
Given what I knew from "The Act of Killing," I was not totally clueless at the end of "The Look of Silence" when I saw it at the Roxy, a local indie movie theater owned by the Philadelphia Film Society, but I was certain that I needed to stay for the advertised post-screening Q&A with director Josh Oppenheimer via Skype. The Skype connection did not allow for the planned "give-and-take" but it worked well enough for Oppenheimer to provide a truly enlightening account of the back story of "The Look."  I did not have to wait very long this time to realize that Oppenheimer had done it again.   
"The Look" follows Adi Rukun, an sort of itinerant optician, as he engages in dialogue with those who were responsible for the death of his brother, a victim of the genocide, during what are ostensibly examinations for new eyeglasses.   Adi was born after his brother Ramli was killed; his mother says Adi"s birth is what kept her from going insane after Ramil's death.   Ramli's murder was a significant one in the district because it was the only killing as to which there were surviving witnesses.  It is clear that the regime currently in power is descended from the aging perpetrators who carried out the genocide and that questioning the regime's revisionist history of the events of 1965 is a risky pursuit.  Continued impunity demands continued "Silence!"  The documentary provides the occasion for Adi to embark on a kind of informal transitional justice "Truth and Reconciliation" mission, one intended to break the silence and allow the perpetrators and their descendants and the victims and their descendants to live together in peace. 
Oppenheimer knew the interviewees, and more importantly the interviewees knew him, from the making of "The Act of Killing." Some of the conversations involving Adi become argumentative while others end in veiled threats.  Though I could not measure the extent to which Adi is actually in danger of imminent or delayed retaliatory attack, I fear for him.  I identify too with the fear his elderly mother and wife express not only for his safety, but also for their own safety and that of his young children and his frail father who suffers from dementia.  Oppenheimer later described the security measures that were taken to shot the film and the security measures that were taken to protect Adi and his family thereafter. 
After Oppenheimer spoke, I realized that "The Look of Silence" is about Adi's brave response to being confined in, and in Adi's case being born into, "a prison of fear."  Fear is contagious.  It can be passed down from one generation to another.  Fear can be vicariously experienced.  In the work of a truly gifted documentarian, it can be conveyed from sufferers to an audience.  For the latter, the fear is all the more palpable because its sources are real people and real encounters captured in real time.  Real too is the fear, mixed with guilt, that comes when an audience member recognizes that fear and silence are part of pain caused by American involvement in the massacre.  
I'll have to see "The Look of Silence" again to be sure that I have this right.