Putting Purpose into Practice: The Clinical Experience at Penn Law
February 09, 2018
The structure of the doctrinal class is predictable: we debate, dissect, and digest cases in a particular discipline of the law. In the classroom, we harness our analytical skills and participate in an intellectual dialogue, questioning the existing legal framework while simultaneously offering equitable solutions for the parties involved.

The Gittis Center for Clinical Legal Studies at Penn Law is anything but predictable. The clinical experience brings to life the cases we discuss in our doctrinal classes, challenging us to diagnose difficult legal issues and to develop solutions for clients in need of our services. Unlike the set-up of doctrinal classes where we read cases after they have been decided, the Clinic operates as a teaching law firm (right inside the law school) where students tirelessly work towards a favorable outcome for their clients. All of the work is done pro bono with many clients below the poverty level, and our business clinics often represent clients that are advancing a social economic good.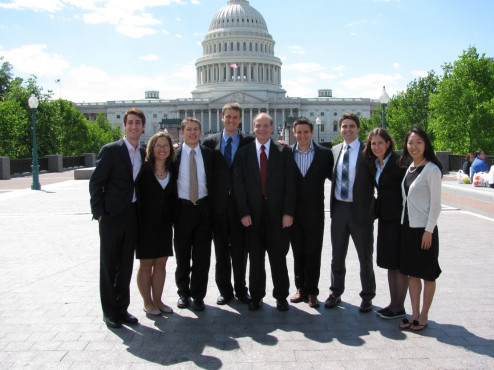 A Virtual Tour of the Clinic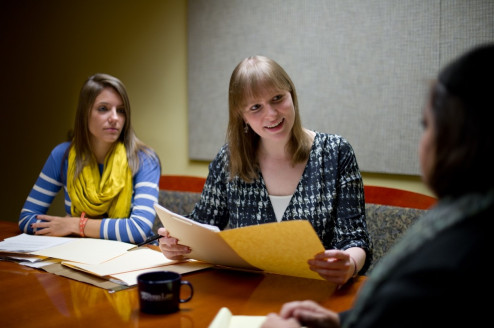 Our Clinical Program was one of the first ever in the nation, and we just celebrated our 40th anniversary in a big way last year. There's something for everyone here. For students who would like experience in litigation and going into court, we offer the Civil Practice Clinic, the Criminal Defense Clinic, the Interdisciplinary Child Advocacy Clinic, the Transnational Legal Clinic and the Supreme Court Clinic. Alternatively, for students who would like experience in a transactional clinic, we offer the Entrepreneurship Legal Clinic and the Detkin Intellectual Property & Technology Legal Clinic. Students who want experience working in Washington, D.C., enroll in the Legislative Clinic, and students who want to learn more about mediation and other alternate dispute resolution enroll in the Mediation Clinic. These clinics allow students to explore the roles and responsibilities of a lawyer in a realistic practice setting. Students work closely with classmates, hone practical lawyering skills, receive feedback from the experienced practitioners who supervise and mentor them, and, most importantly, serve clients in the surrounding community. Through the clinical experience, Penn Law seeks to ensure that students have the confidence to represent a client as the front-line lawyer, and feel supported and mentored throughout the semester with close faculty supervision and training.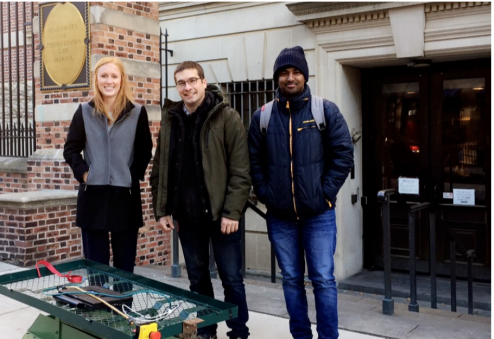 The Clinic functions as a teaching law firm with an entrance on Sansom Street for clients to easily access. The office has two student workrooms whose computers are equipped with iManage, software used by most big law firms and government offices. Thus, students are exposed early on to technology that many of them will use during their 2L summers and again after graduation. The Clinic also has multiple conference rooms for in-person client meetings, phone meetings, supervision meetings, and team meetings. All are equipped with state-of-the-art camera recording equipment so that faculty supervisors can provide valuable feedback when they are not present in the meetings.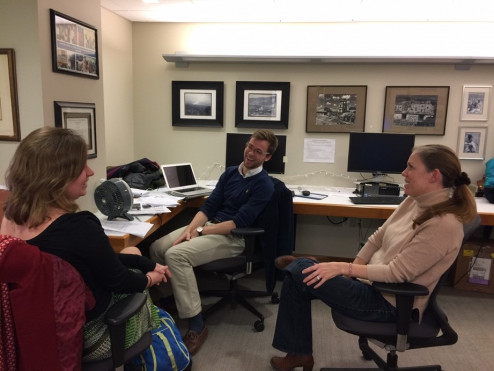 As early as the first semester of 2L year, students can register to participate in a clinic. Please read below for students' individual accounts of their work in the clinic, but on the whole, students leave with such meaningful hands-on experiences and often say that the clinic was the best experience they had in law school. They have a sense of fulfillment and excitement for carrying on pro bono work in their future careers. 

Students are typically paired with a fellow classmate and assigned to approximately three cases for the duration of the semester. The professors assign clients to the teams of students. Some clients carry over from the previous semester, while others are entirely new. (In a similar vein, students sometimes have the option to "carry over" from one semester to the next in the same Clinic, or they can choose to participate in a different one!)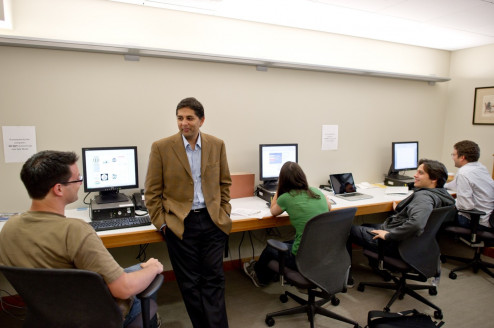 A benefit to joining a clinic is working with the professors, who are highly successful scholars and practitioners. At Penn Law, the clinic faculty are all full-time clinicians so they are readily accessible to students. We also have a small number of adjunct faculty who are leading practitioners in their fields. The weekly supervision meetings, in addition to weekly seminars and client work, allow students to develop close relationships with their professors. Beyond their title as supervisors, they serve as mentors to students and guide them throughout their careers.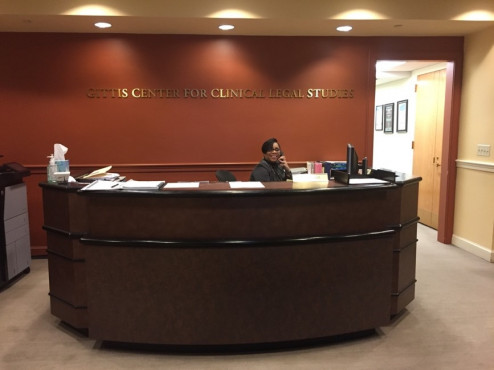 Further, students become close to the administration, who are the "MVPs" of the Clinic. They assist students with questions about iManage, document requests, and the like. It's great training for students to learn to work with support staff before their first legal positions.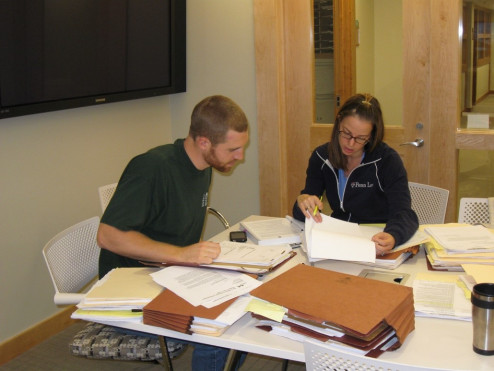 Because there is no final exam, students are graded throughout the semester based upon class participation, simulations, and client work. The seminar classes focus on a range of topics — from cultural humility to learning the legal landscape of Special Immigrant Juvenile Status to working with interpreters. Many classes are also set aside for case rounds, where students have the chance to present on their clients' legal issues and request feedback from the class; this particular collaborative learning method is valued by the students and professors alike.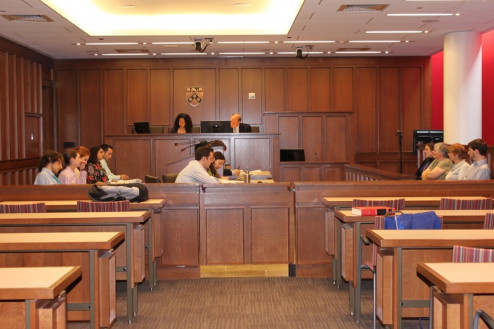 Most of the clinics use simulations for teaching purposes before students are assigned their first clients. For example, a student in the Interdisciplinary Child Advocacy Clinic participates in two simulations during the semester: she begins the semester with an interview simulation, where she is given a short fact pattern, meets with a paid actress to practice her interviewing skills, and then sits down their her faculty supervisor to receive an in-depth critique; this student ends the semester with a court simulation, where she practices oral advocacy and argues a case in the Kline & Specter Court Room located within the Law School.

Why Participate in a Clinic?

Below, current students and alumni provide testimonials regarding their clinical experiences. A common thread that runs through each description is that, by merging theory with practice, students at Penn Law grow both professionally and personally.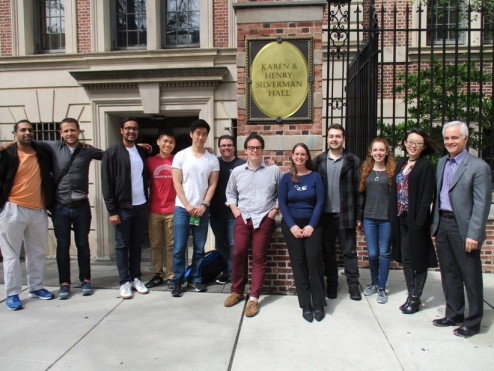 Malu Malhotra, Interdisciplinary Child Advocacy Clinic
"I woke up on a typical Thursday morning to meet my clinic partner (the incomparable Danielle Sekerak) for a grievance meeting that we were having with our client's insurance company. Our case was a complicated insurance case that felt like a constant uphill battle. On this particular day, our grievance meeting, followed by a request from our client, led me to spend most of the afternoon doing some investigative work that might help settle this matter for good. After hours on the phone and doing research on the internet, I felt like I had hit a wall. I walked into my clinic professor's office, feeling very defeated, and she told me to go home for the day and sleep on it. I went back into the clinic the next day, and all the work we had done the day before had resulted in a small victory for a client. The small victories were just as important as the big ones. Any bit of relief we could get for our client was relief, nonetheless. And the small victories that result from the days that you put hours into your case are the victories that really matter."

Pratik Agarwal, Entrepreneurship Legal Clinic
"The Entrepreneurship Legal Clinic (ELC) was a fantastic experience in gaining substantive transactional experience in a wide-array of matters. Depending on the team and client, students worked on things like: drafting by-laws, applying for trademarks, reviewing and amending employment contracts, structuring and forming entities, etc. Furthermore, one of the best and most valuable aspects of the clinic was client-management; the clients are truly 'yours' and it was great being able to take full ownership of the work. This allowed us to help both small start-ups and large, sophisticated clients achieve their short-term goals while keeping long-term strategy in mind. The ELC is a great opportunity for anyone who wants to gain a better understanding of what corporate lawyers actually do." 

Francesca Crooks, Transnational Legal Clinic
"The Transnational Legal Clinic provided me with an opportunity to see how one of the most controversial topics of American politics plays out in the context of individual asylum cases. In interviews with our clients and case rounds with our peers, my partner and I learned how to develop a long-term strategy in helping our two clients tell their stories to immigration officials. Apart from developing strictly legal strategies pertaining to asylum, we also had the chance to learn how to acknowledge personal cultural biases, to work collaboratively with interpreters, and to consider how to encourage large-scale changes that could make our current immigration system more fair and efficient. Although a challenge, participation in the TLC has been the highlight of my time at law school so far."

Teddi Josephson, Detkin Intellectual Property & Technology Legal Clinic
"The IPC, as a transactional clinic, allowed me to work on drafting and negotiating skills that are less of a focal point in doctrinal law classes. For one of my clients I was able to both draft a Software as a Service agreement and negotiate a technology license with the Office of Technology Transfer of another major university. The IPC allowed me to work on these major client projects with the safety net of faculty supervision and prepared me to approach client work in the Tech & IP Transaction space at my firm."

Brittany Sherman, Civil Practice Clinic
"During my 3L fall semester, I had the pleasure of participating in the Civil Practice Clinic under Professor Rulli's supervision. This clinic gave me the unique opportunity to work directly with clients on pressing matters, and to strive to effectuate concrete and positive changes in their lives. Even further, it pushed me to improve my writing, communication, and oral advocacy skills in a very practical and focused way. I will always be extremely grateful for the guidance and support I received throughout my time in the Clinic, which, undoubtedly, was the most rewarding aspect of my law school career."

Daniel Urevick-Ackelsberg, Civil Practice Clinic alum
"During my first two years at Penn, I often felt disconnected from an education that did not always feel relevant to the career of a future public interest attorney. The Civil Practice Clinic (CPC) changed all of that. Unequivocally, the CPC was the hardest, most stressful work that I completed at Penn Law. It was also the most rewarding. I spent a year learning how to provide high-quality legal services to low-income clients, all while using resources provided to us by the Law School. Nothing in my time at Penn Law made me feel as loyal and connected to the school as writing letters, submitting briefs, and arguing in front of the Court of Common Pleas on behalf of my clients and the Penn Legal Assistance Office. All of a sudden, the concepts I learned and was learning were not just relevant, they were tools to help those who most needed it."

For more information about the clinical experience at Penn Law, please visit: https://www.law.upenn.edu/clinic/.

A special thanks to Rachel Mayover, the Administrative Director of the Gittis Center for Clinical Legal Studies, for her tremendous help in writing this post!