My Experience at the 62nd Session of the Commission on the Status of Women
By: Kimberly Panian, L'18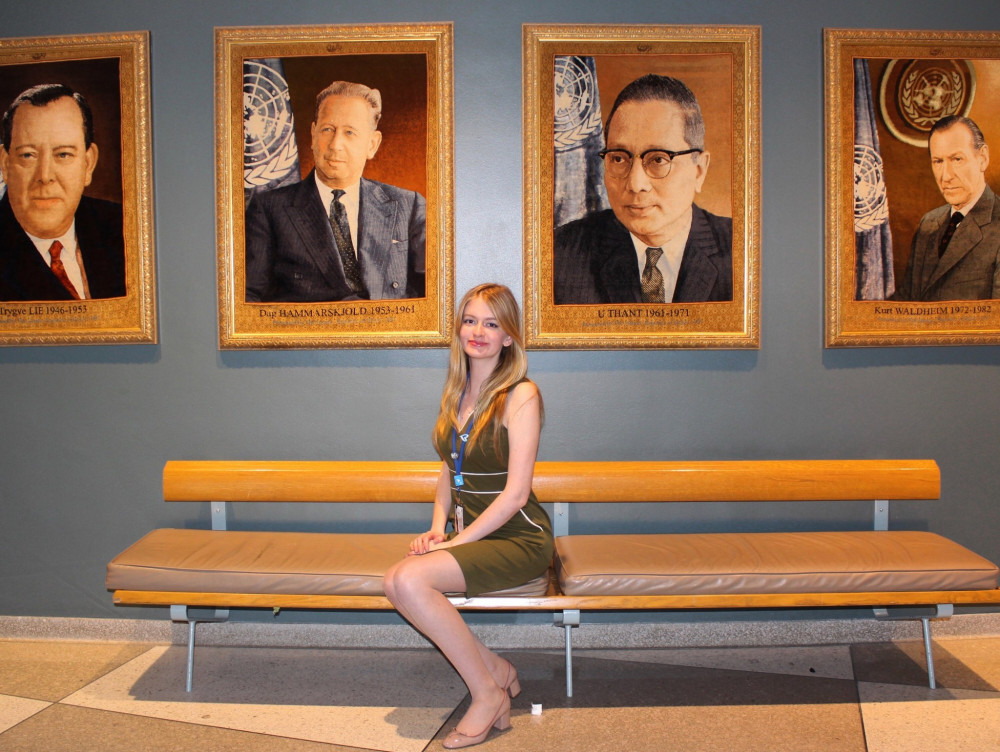 This year's Commission on the Status of Women (CSW) proved to be a historic one where member states gathered to discuss the substantial progress made in favor of gender equality. While each country addressed areas still in need of work, each event of the CSW offered an inspirational promise of hope. The excitement was palpable whenever discussing the significant progress already made—how women's voices have been amplified and legitimized through legal reform and political activism.
Recognizing that there is still much work left to do, a speaker from a civil society organization noted how gender equality represents low hanging fruit. While significant strides have been made, the tougher challenges of restructuring systemic institutions that give rise to widespread issues of gender-based violence and discrimination represent a long road ahead. However, there exists noticeable progress. For instance, while it remains true that a predominance of staff in the upper echelons of the UN continue to be men, there finally exists 50/50 gender representation among member states. Under-Secretary-General of the UN and Executive
Director of UN Women, Phumzile Mlambo-Ngcuka, proudly remarked on how this feat took 72 years to accomplish, but when it materialized it only took one year to implement. An example of how quickly progress may occur after years of hard work and dedication.
This relates to the message of persistence, which is what particularly resonated with me during a meeting focused on addressing gendered violence in conflict zones. A delegate from Uganda mentioned the proverb "The moon moves slowly, but it crosses the entire town." To me, this phrase accurately portrays the struggles all countries face, not just those in war-torn regions, grappling with very nuanced and systemic issues. A common theme involved the discussion of culturally and socially rooted gender discrimination. Fostering change at this level requires a great degree of patience and tact. That is why the following proposals were made as a means to spark the necessary, albeit slow-moving, change on the path to gender equality:
For one, the role of men was often highlighted as a solution in regards to the more deep-seeded dilemmas at issue. Men who publicly support women's rights and who demonstrate zero tolerance for gendered violence, political or otherwise, have a profound impact on the gender-parity movement. The room lit up at the notion of feminist politicians, men in power who are not afraid to call themselves as such. However, whatever the sphere of influence every person can help push social attitudes towards a brighter future for women and for the world in general. To help achieve this, we cannot forget young men. Through informal and formal education, young men can learn to work alongside and encourage their female classmates and friends.
Achieving the Sustainable Development Goal of gender equality (SDG5) also requires a greater deal of data and statistical evidence. That is why another solution involves the enhancement of data mining methodologies along with more accurate interpretations of the data yielded. Allowing citizens, through NGOs, to compile data through new sources gives the government a novel perspective while engaging and empowering the individual citizenry. Providing new avenues of research will also help reveal unique perspectives that strictly national studies may overlook. Working from the ground-up provides clearer insight to interpret the numbers more accurately and more confidently attribute a cause to what is being observed. Policymakers need to know why a certain trend is occurring. As another speaker from Uganda mentioned, "Statistical analysis is the eyes of policymakers." The process of gathering this information brings non-state actors together and provides the only opportunity to measure improvement.
Access to healthcare, education, and capital are all cornerstones to reaching gender parity. The most vulnerable populations—displaced women and immigrants as well as rural women and women living in poverty—undergo all of these hardships, which are often correlated to increased gender-based violence. Providing aid for those especially in need helps combat these social drivers that lead to greater violence and often represent early indicators of conflict. Helping women and giving them access to basic resources, therefore, helps in peacekeeping efforts, something austerity cannot accomplish.
Another solution involved the importance of SDG 16—access to justice. This proposal appealed to me in particular as a law student. As I attended the various conferences I continued to understand the importance and empowering effect of the legal system. Without proper channels to justice and legal knowledge, women all over the world are kept at an unfortunate disadvantage. During a conference conducted by Mexico, "A Follow up to CEDAW", a delegate from Spain emphasized the positive influence of CEDAW General Recommendation 33 and the necessity of accessible legal assistance for Mexico to meet its goals of eliminating violence against women and reaching gender parity. Ultimately, the ability to have a voice in court gives the victim the capability to become a survivor.
To expedite the process of reaching gender equality, equal representation in the workplace is a necessity. However, the goal is not just about having more women in positions of power, it is about filling these positions with women who will have a meaningful impact. As the Under-Secretary-General stated, "Change is quicker when women are given the opportunity to make decisions, take charge, and walk the talk." The women at the table need to lead from the frontlines to produce noticeable change. This requires strong pipelines that support women and train them to assume roles of leadership with confidence and skill.
These were just a few of the ideas discussed during the four out of twelve days during which I attended the CSW. It was inspiring to see member states come together to give recommendations and help each other come up with innovative solutions. Delegates discussed their attempts to meet the goals outlined in various feminist international instruments such as CEDAW, the Belém Do Pará Convention, and the Istanbul Convention. The ability to share success stories provided a discourse for countries to learn from different strategies, which proved beneficial in the past. Furthermore, the Commission provided a forum for member states to map out a coordinated approach and amplify community voices while targeting areas of improvement as well as success. During the CSW's two-week run, advances were celebrated and areas of deficiency noted. What is left to do is to keep forging forward.
I am very thankful for the opportunity to attend the CSW and to currently be working with the UN, especially as it has allowed me to reflect on several aspects of my own life and upbringing. I feel a special connection to the work promoted by the Sustainable Development Goals as they strive to help regions and people that are often forgotten by politicians and national governments. My grandmother came from a very remote and rural village in Jalisco, Mexico. Her life has been very different from my own. Unlike me, she was forced to quit school at age 12 and received a lot fewer opportunities, enduring several hardships as a result of being a woman. Attending the CSW and hearing how world leaders not only notice the plight of rural women but also are actually doing something to enhance their way of life and empower them inspires me and instills an incredible amount of meaning into my work.   
____________________________________________________________________________________________________
Kimberly Panian is externing at UN SDG Fund (UN) as part of an externship tied to the Seminar on International Women's Rights. Associate Dean Rangita de Silva de Alwis, who teaches the seminar, is a Global Advisor to the UN SDG Fund (UN).