Penn Law Abroad: Reflections from King's College London
By: James Albrecht L'19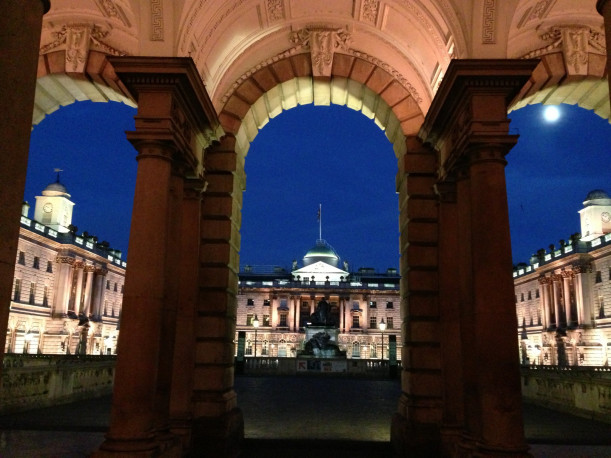 I am currently a visiting student at King's College London, set right on the Thames River in the heart of London.  Seeking to take advantage of everything London has to offer both in the city and in the classroom, I have decided to embark on a comparative analysis of the law which I have studied so far at Penn Law.  Because I will be working in a corporate firm when I graduate, for a majority of my courses I chose a corporate concentration and I have enrolled in Competition law, the Law of the Company, and Public International Law. Though these classes are seemingly typical, it is for that reason that I chose to enroll in them here: the chance to study these topics in the EU and UK context is a privilege I would not have had at home, and it is an opportunity to compare the distinctions between the US and UK, which are both common law countries.
There is a very interesting dynamic to the legal system in the UK.  While the UK does have its own national laws, it is of course, for now, a member of the European Union.  Though the US, too, has a balance between state and federal laws, the interplay of both national and EU interests in the UK is unique in a different way and makes the legal system in the UK fascinating to study. Additionally, with the looming Brexit deadline just months away, I doubt there has been a more interesting, exciting and, perhaps, even scary time to study the UK/EU legal relationship. In my short time at King's, I have been exposed to many different opinions and debates on what the right path for the UK should be and I have appreciated the opportunity to study at a school that openly welcomes the intense intellectual give-and-take on the issue. 
My experience so far at King's has been extremely rewarding.  I have enjoyed experiencing law school and law classes in an environment that is a little different from the one I have grown accustomed to at Penn Law.  The classes, styles of teaching, and general student makeup are all fairly different from those at Penn Law.  First, there is very little Socratic method, something the students here don't seem to mind too much.  Also, a law degree in the UK is an undergraduate degree, so I tend to find myself as one of the older students in the room.  Additionally, the number of students from different countries in each class is unbelievable.  For example, I have a couple classes with students coming from at least ten different countries.  I have found this diverse environment to be extremely important and influential in my studies. Student's positions on legal issues are largely influenced by their civil law backgrounds, cultural differences, and government compositions, and this has provided for opinions and ways of thinking that we aren't exposed to in the typical U.S. classroom. 
The past two years at Penn Law were a major influence on my decision to study abroad.  The faculty, students, and the general academic community at Penn Law truly bring out the thirst for both academic and personal growth in its members.  Penn Law has provided me with the legal foundation and analytical tools to go out into another legal and academic environment and appreciate and understand the differences of our systems.  I believe my experience abroad has helped me become a more well-rounded student, legal thinker, and citizen of the world and I look forward to using my experiences back at Penn Law in the spring.