Transgender Day of Remembrance viewing in Biddle Law Library
January 14, 2020
In 2019, 22 transgender individuals in the U.S. lost their lives due to violence, with another two individuals' deaths subject to ongoing investigation. On November 20, 2019, flags decorated Locust Walk in commemoration of the lives of these 24 individuals in recognition of Transgender Day of Remembrance. The event on Locust Walk featured vigils to each of the 24 individuals whose names appear on the flags.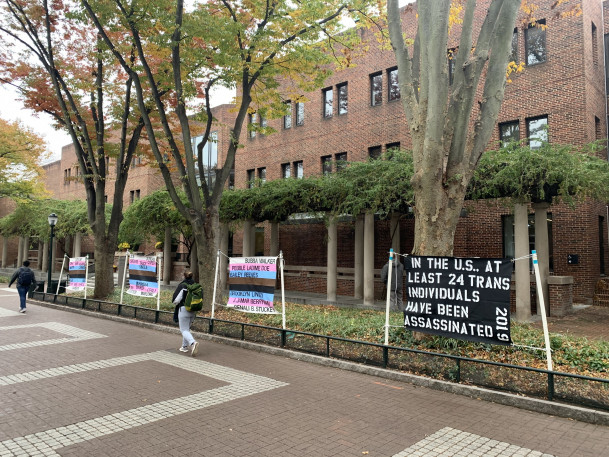 From January 14 to January 24, 2020, the Biddle Law Library at Penn Law invites members of the Penn community to pay homage to these lives by visiting the Transgender Day of Remembrance flags exhibited in the library. Biddle is open seven days a week, opening hours vary by day, details of which can be found here.
For more information about Penn's LGBTQ+ community and related support and resources, please visit the University's LGBT Center's website.
Transgender Day of Remembrance is an opportunity for people to come together and honor, commemorate, and memorialize the lives lost due to anti-transgender violence. As anti-transgender violence is misreported, underreported, or is not reported at all, the day also pays tribute to unknown victims.
In 2019, Brianna "BB" Hill, Itali Marlowe, Ja'Leyah-Jamar, Bee Love Slater, Bailey Reeves, Tracy Single, Bubba Walker, Pebbles La Dime Doe, Kiki Fantroy, Denali Berries Stuckey, Brooklyn Lindsey, ShZoe Spears, Chanel Scurlock, Chynal Lindsey, Paris Cameron (Alunte Davis and Timothy Blancher were also killed in the incident), Michelle "Tamika" Washington, Muhlaysia Booker, Claire Legato, Ashanti Carmon, Jazzaline Ware, and Dana Martin all lost their lives as a result of anti-transgender violence.
The causes of death for Layleen Polanco and Johana "Joa" Medina Leon have yet to be determined but are included in this years' remembrance. For more information on all these individuals please visit Glaad.