Public Interest Programs
Thanks to the historic generosity of two distinguished Penn graduates, Robert Toll L'66 and Jane Toll GSE'66, Penn Carey Law is home to a remarkable roster of public interest scholarships and programs. Committed to offering service-minded students the most comprehensive system of support in the country, the Law School continues to grow its already thriving public interest community.
TPIC oversees the Toll Public Service Corps, which houses the Toll Public Interest Scholars & Fellows Programs. The Service Corps offers tailored programming for Toll Scholars & Fellows and administers the associated scholarships. 
Additionally, TPIC designs and delivers the Public Interest Experience (PIE). PIE provides in-depth, year-by-year programming that helps students navigate each stage of law school while building a strong community, interacting with faculty, and networking with alumni. 
The Service Corps and PIE embody Penn Carey Law's unwavering commitment to service.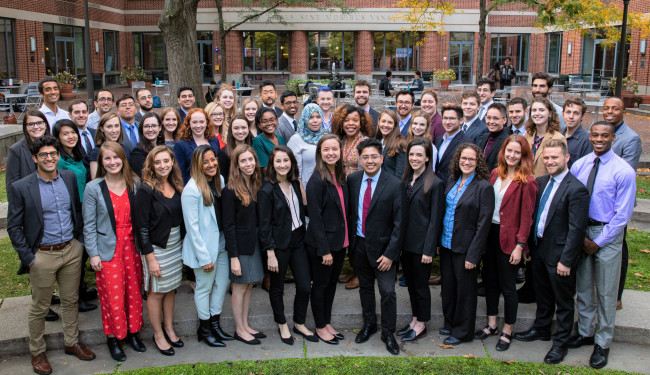 Members of the Service Corps & PIE gather in the Law School's courtyard.