Sparer Symposium 2009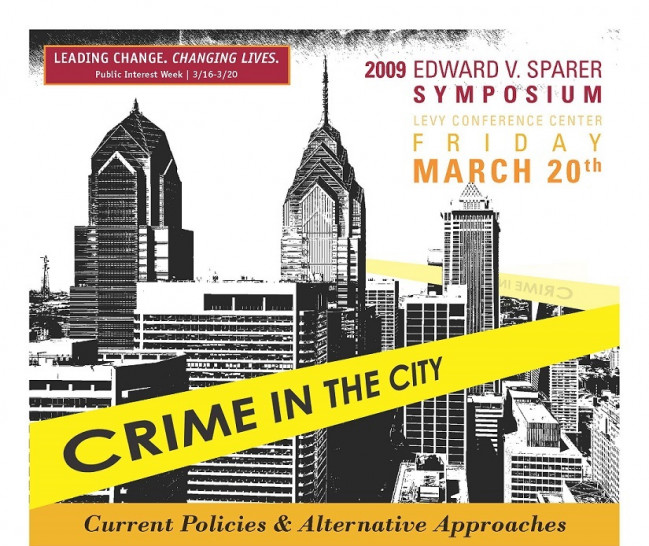 28th Annual Edward V. Sparer Symposium
Friday, March 20, 2009
Crime in the City: Current Practices & Alternative Solutions

Schedule of Events
9:00 a.m.  WELCOME AND INTRODUCTORY REMARKS
Michael A. Fitts, Dean and Bernard G. Segal Professor of Law, Penn Law School
9:15 a.m.   SEARCHING FOR INNOVATIVE SOLUTIONS:  ARE HOLISTIC CRIME-REDUCTION STRATEGIES EFFECTIVE?
Liberty Aldrich, Center for Court Innovation
Denise Clayton, Philadelphia Youth Violence Reduction Partnership
Robert L. Listenbee, Defender Association of Philadelphia
Danielle Sered, Common Justice
Robin G. Steinberg, Bronx Defenders
11:15 a.m.   DOES THE PUNISHMENT FIT THE CRIME?  A DEBATE ON SENTENCING PRACTICES 
Moderated by: Stephanos Bibas, Penn Law Professor

Sarah Hart, Philadelphia District Attorney's Office

Marc Mauer, The Sentencing Project
12:30 p.m.  Lunch
1:30 p.m.    KEYNOTE ADDRESS:  Jeremy Travis, President of John Jay College of Criminal Justice

2:30 p.m.    POLICE AND THE COMMUNITY:  CAN WE WORK TOGETHER TO ACHIEVE JUSTICE?
Colonel Dean Esserman, Chief of Providence Police Department
Ron Kanter, Producer of Documentary "New Cops"
Charles H. Ramsey, Philadelphia Police Commissioner
David Rudovsky, Penn Law Professor, Civil Rights Attorney, and Criminal Defense Attorney
4:30 p.m.    COCKTAIL RECEPTION