Students Speak
This year's anniversary programming concluded with a moving presentation by 12 current Penn Law students, each of whom spoke about a special dimension of the law school's public interest community.  Scroll down for video, text, and Photos.
We Are…
Community Builders | John Parron, L'17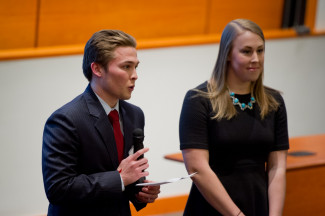 We are community builders. One of the many special things about Penn Law is the communities which are built and maintained both inside and outside the doors of this law school. While we spend our fair share of time behind our books, we believe that our community's well-being is dependent on the quality of our relationships. So, our focus remains outward, towards each other and towards our community. Within the school, you see this every day in the collegiality of our students, faculty, and staff – an attribute in which Penn Law is second to none. But where we truly shine is in our ability to build communities outside of our doors. From representing recently evicted tenants, to providing resources to veterans, to assisting middle-schoolers learn how to manage their conflicts, we believe in giving back to our communities, and we understand the importance of building relationships. Here at Penn Law, we strive to exemplify the brotherly love to which this city owes its name.
Client-centered | Caroline Buck, L'16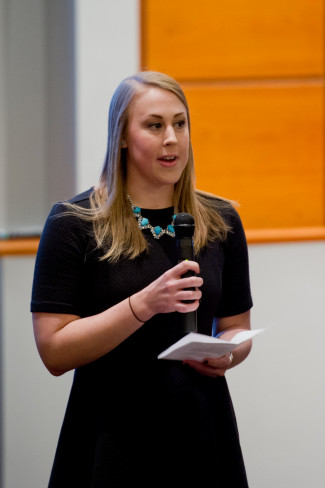 We are client-centered. Through my involvement with TPIC, I learned early on in my Penn Law career what it truly meant to be client-centered, and how great of a responsibility and privilege this was.
For the last two years, I have been working as a client advocate with the Custody and Support Assistance Clinic. CASAC assists indigent clients with a range of family law issues, including custody, child support, spousal support, and protection from abuse matters. As a CASAC advocate, direct client services has been the most significant and formative part of my law school experience.
As law students, it's easy to get lost in our own world. Working with CASAC clients has been a constant reminder that there is something bigger worth working towards. Through CASAC, I have had the opportunity to work with clients to help resolve their most personal legal issues in ways that have a tangible impact on their daily lives. Being able to use what I've learned for the benefit of my clients has been a rewarding and humbling experience that I'm very thankful to have had.  
Scholars | Jacob Boyer, L'17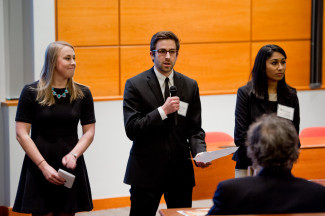 We are scholars. As Penn students we are driven not only by how the law works, but how the law needs to work. Scholars and public interests student sit in class thinking not just "what law applies here?," but when do we need to change the rules of the game. These considerations are woven into the experience of being a student in classes you might anticipate, such as Professor Lesnick's Legal Responses to Inequality course, examining how we ended up with some of the most frightful decisions in American legal history. But, it is also incumbent upon us to recognize its presence in places we are less inclined to expect. We are tasked to engage with a torts or administrative law class, places where the connection between the doctrinal rules and the people is not always as apparent, and ask, "who does this law really work for" and "who should it work for." The nuance involved in thinking about what procedure is available in an administrative proceeding is infused with the power to dramatically impact the causes and communities we've come to law school to work with. It is the legal scholarship that attunes us to the regular disconnect between a law's intent and a law's reality. Penn students must, and do, consider both how to use existing legal rules to fight for fair outcomes and how we can ensure that laws account for fundamental inequities in our world.
Advocates | Yosha Gunasekara, L'15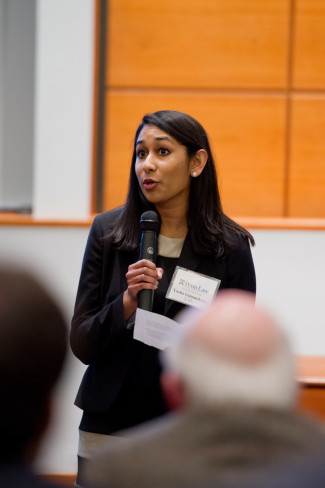 We are advocates. We help give voices to those who have been silenced by circumstance. Not everyone can effectively communicate their story, so we champion their cause. We are driven by the purpose of our task. It may be defending an indigent client, helping to expunge a criminal record, fighting against gender-based exploitation or improving the education in our schools. But everyday, during that moment in which we work with our clients or write that brief our client's battle becomes our own.  
Activists | Cochav Elkayem-Levy, S.J.D. Candidate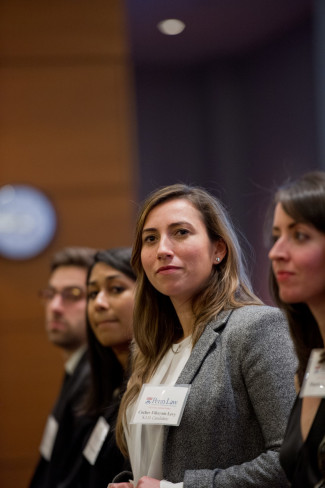 We are activists. We act on our values. When we see injustice around us, we feel the need to get deeply involved. Here at Penn, we have the rare opportunity to follow our passion. Because capital is never enough, we rely on human resources. We gather as groups and create incredible partnerships (with our friends/colleagues) for social causes. The TPIC dedicated team/ penn law provided us with extremely valuable tools , remarkable guidance/mentorship, and above all inspiration and belief in our abilities to bring about change to society.
We put all of this into meaningful actions that benefit disadvantaged communities. In field work  or in research, reaching out to organizations or directly to victims - we advocate for rights of migrant children,  promote the rights of prisoners, engage in education , represent youth in courts, and assist victims of crimes. We are each devoted to achieve social change. We learned here at Penn that anything is possible, that the sky is the limit. Just have the courage to imagine.
Policy Makers | Marie Logan, L'15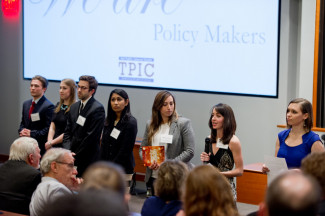 We are policymakers. Within the Environmental Law Project, we write public comments to the administrators of agencies like the Environmental Protection Agency and the Council on Environmental Quality. Those agencies often cite to the Environmental Law Project's comments when final rules are issued. 
In our summer jobs and externships, we also shape policy. I've been involved in research into a variety of issues, including the storage of wastes from hydraulic fracturing operations in Pennsylvania, and the regulation of hazardous coal ash from power plants.
And in our work as editors of the Journal of Law and Social Change, we debate every article that is published, and we select articles that give voice to pressing social justice issues and the needs of the underserved. Our journal shapes policy conversations throughout many issue areas, including independent contractor law, reproductive justice, and child advocacy, to name just a few. 
Multi-disciplinary | Siri Carlson, L'16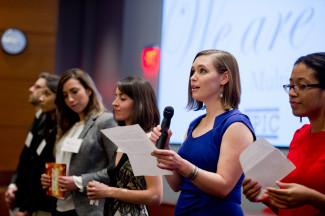 We are Multi-Disciplinary. Whether taking courses related to business, social work, or developing their language skills, to name just a few, public interest students from the law school branch out across the wider Penn community to supplement our legal education with multi-disciplinary educational and experiential opportunities available to us throughout the University's many schools.
For instance, this fall I began coursework towards a Certificate in Social, Cognitive, and Affective Neuroscience. Hosted by the University's Center for Neuroscience and Society, the SCAN certificate encourages non-neuroscientist to learn about the study of the stuff between our ears and explore how it affects our discipline. As a law student interested in criminal justice systems, I've been able to learn about what neuro-scientific findings can and can't tell us about things like brain development, emotional control, and mental disease and addiction.
As public interest students continuing our education through additional coursework outside the law school, we are embracing opportunities to better understand the world we live in and the ways in which we will meaningfully contribute to it.
Global | Megan Smith, L'16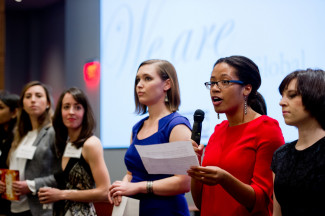 Megan Smith is the Chair of BLSA's Project Peace
We are global. Through pro bono activities, guest speakers, the Transnational Legal Clinic, classes, and summer opportunities, Penn Law exposes students to international human rights legal work. This past summer I worked in South Africa at Lawyers for Human Rights, as a Penn Law International Summer Human Rights Fellow. My work, helping asylum seekers and refugees navigate the South African legal system, is not totally dissimilar from my work this semester in Penn Law's Transnational Legal Clinic. Both experiences have taught me that to be global, does not require a person to leave their country. It does require the understanding that the struggles of people half way around the world affect us. The global gaze does not recognize borders, but instead focuses on the rights and conditions of people. Penn Law's global focus enables students to begin crafting human rights careers, and the Penn law community pushes us to be reflective and conscious advocates.
Innovators | Nicole Schneidman, L'16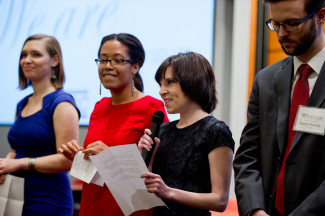 Nicole Schneidman is a student leader of the Urban Ventures Project
We are innovators. We are boundary-pushers and opportunity-seekers. We don't accept "Well, that's the way it's always been done" as an answer. For us, "the way it's always been done" is just one more reason to not do it that way anymore.
In the face of issues from the digital divide to climate change, we recognize a responsibility to maximize the resources at our disposal, to leverage every tool, be tenacious, and dream. For us, acceleration, scale and efficiency translate into a different kind of bottom line: lives saved, jobs created, difference made.
We challenge the notion that corporations are defined by a duty to maximize profit. We see entrepreneurship as a tool for community building. We recognize that laws are the rules of the game, not fundamental truths, and know all too well that some rules were made to be rewritten, if not outright broken.
We are trailblazers. We teach entrepreneurship on the weekends. We compete for start-up funding. We challenge the assumptions of programmers, foundation managers, and politicians on what is and isn't possible.
Leaders | George Donnelly, L'15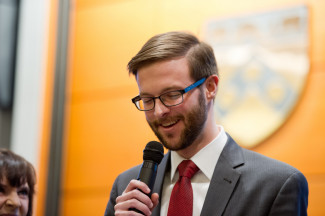 George Donnelly is the director of L.E.A.R.N and a board member of the Penn Housing Rights Project.
We are leaders.  Penn Law students lead nearly 30 pro bono projects that, among other things, help parents gain custody of their children advocate for students in disciplinary hearings, expunge criminal records, and represent tenants in eviction cases.  We are not yet lawyers, but we have already demonstrated that we are willing to step up and lead organizations that, though small, have a lasting and meaningful impact on the lives of those were serve.
Professionals | Nina Martinez, L'15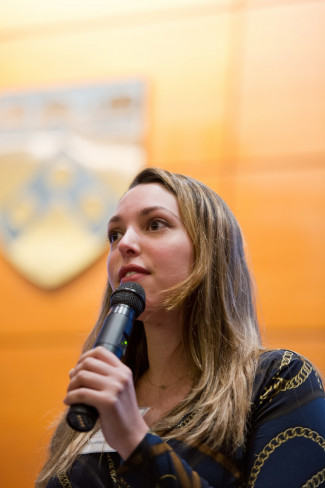 Nina Martinez is a 2015 Skadden Fellow.
We are professionals. The Toll Public Interest Center has nourished my desire to interact with clients, gain practical experience, and serve as an advocate.
As a legal intern at Make the Road New York, a non-profit organization devoted to immigrant workers' rights, I was exposed to the devastating reality many low-wage workers face on a daily basis.
At Make the Road, I performed Spanish-language intakes with workers with a range of employment related grievances, including discrimination, wage theft, and workplace injury. I provided legal advice and "know your rights" trainings to workers.  I drafted demand letters, and participated in administrative hearings.
I would not have been equipped to perform this work if it weren't for the meaningful lessons gained through my exposure to Penn's vibrant network of alums, faculty, and community partners, a network of seasoned practitioners committed to mentoring the future of public interest. A network that grows larger and stronger every year.
Impactful | Britney Wilson, L'15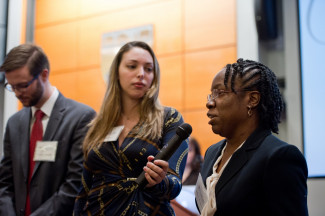 Britney Wilson is a 2015 Karapatkin Fellow.
We are impactful. I came to Penn Law knowing that I wanted to advocate for the rights of marginalized groups as a civil rights attorney. When I would describe for people the type of work that I wanted to do, they would say, "oh, so, you want to do impact litigation?"
I had never even heard the technical term before, but somehow it just sounded right. Impact litigation. I wanted to do legal work that made an impact—that tackled some of society's most persistent and troublesome problems.
Yet, during many of my days as a law student, I found myself doubting my ability to make an impact. I questioned whether the knowledge, experiences, skills, and perspective that I had to offer were truly valuable and truly valued.
 But, ultimately, I found that it was in my public interest work—my pro bono work, summer internships, and externships where I felt most useful. I got to do things like research and write for some of the most notable civil rights organizations in the world by working with the Civil Rights Law Project, learn about case investigation and flaws in the criminal justice system through the Pennsylvania Innocence Project, argue parole hearings and help defend capital clients at the Southern Center for Human Rights, help disabled prisoners get appropriate accommodations at the Prisoners' Rights Project, to name just a few experiences. Most importantly, in talking to clients, telling their stories, and learning how to work more effectively on their behalf, I was reminded of the importance of my own story. 
 In TPIC and in the faculty and staff at the law school, I found mentors who encouraged me to use that story to pursue my career goals wholeheartedly and gave me strategies (aka "homework") for how to achieve my goals. Because of these experiences and this encouragement, I will leave Penn Law with the confidence and courage to continue to use my voice and my story to make what I hope will be an indelible impact on society.