Introducing Cortana
December 07, 2020
by Alfonso Mayers
What is Cortana?
Microsoft updated the Cortana experience in Windows 10 to deliver more help from your assistant in Microsoft 365. The new Cortana experience in windows 10 features a chat-based user interface that allows you to interact with Cortana using your voice or the keyboard. 
Why use Cortana? 
Cortana will help you better manage your schedule and tasks by staying on top of your calendar and focusing on what matters with meeting insights. You can speak or type requests to find people or files, or quickly create or query emails. You can also easily check your calendar, set a reminder, or add to your lists in Microsoft To Do:
"What's next on my calendar?"
"Remind me to send the 'weekly report' every Friday at 2 pm."
"Add 'status report' to my task list."
And Cortana will continue to help you get answers from Bing, set alarms and timers, open apps, adjust settings, or give you a joke you can share with colleagues, friends, or family.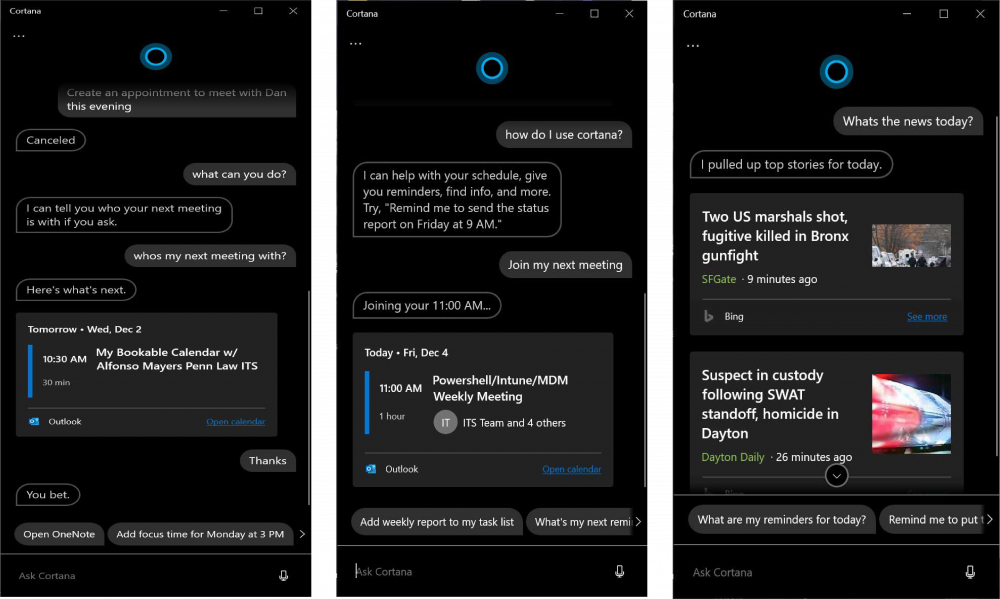 How do I start using Cortana? 
The Cortana app offers a chat-like experience, ask or type or away.
To get started, press the Windows and C key or click the Cortana icon in the taskbar. Sign in using your Penn Law Email(work or school account). If you're not sure what to type, try asking, "What can you do?"
Can't see the Cortana icon? Right-click the taskbar and select Show Cortana Button

Here are some things Cortana can do for you:
Manage your calendar and keep your schedule up to date.
Join a meeting Microsoft Teams or find our who your next meeting is with
Create and manage lists
Set reminders and alarms
Find facts, definitions, and info
Open apps on your computer
You can clear your chat history with Cortana by signing out of the Cortana or going to the Cortana app > click settings(3 dots) > Privacy. Then select the Clear button under Chat History.